WHEELS 2016 SUCCESS! "Phew, what a Scorcher!!"
Report and slide show of Wheels 2016
WHEELS 2016
Sunday 17 July saw the 20th anniversary Wheels Classic Vehicle Show get underway at the Royal Cornwall Showground with the largest 'fleet' of Exhibitors seen since the first Wheels event back in 1997 by a long way! And by 10.00 a.m., when the public started to arrive, the Showground began to replicate the M25 during a busy rush hour (i.e. it was stationary and packed!).

And the sun shone – worrying the organisers that these kind of temperatures would drive all our lovely visitors to the beaches - ice creams sold out in the late afternoon (Kelly's know their market so well) and there were many red faces, caused not by embarrassment, but too much exposure to the solar rays.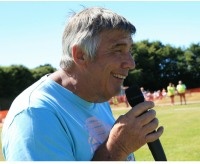 The Parade Ring saw an eclectic mix of vehicles passing through during the afternoon – Tractors, Devon Cruisers, Morris Minors, Panthers to name but a few – all with expert and sometimes surreal commentary from the irrepressible Tim Michell. (right)
One highlight in the Parade Ring was a demonstration given by vehicles and people from Cornwall Search & Rescue – to the amusement of many they had to 'find' a lost Nick Pickles (immediate past President of the Rotary Club) and 'rescue' him; fortunately he was duly located, treated and stretchered off by the team.

The final event in the Parade Ring saw Martin Broadfoot (President for the new Rotary year 2016/2017) and Event Judge, Stephen Knightley, present the Awards – each gratefully sponsored - to the worthy winners:

1) Best in Show - Armstrong Siddeley (and Caravan) owned by Mr John Middleton. Sponsored by Concorde
2) Best Pre 1960 - Morris 8 owned by Mr Dennis Williams. Sponsored by PSL
3) Best Post 1960 - An open top Vauxhall Cresta owned by Mr John Wills. Sponsored by Cornish Insurance
4) Best Motorcycle - BSA A10 1959 owned by Mr Bernie Hand. Sponsored by Mid Cornwall Brokers
5) Best Commercial vehicle - Austin 8 Van owned by Mr Chris Coad. Sponsored by Daften Die-Casting Limited
6) Best Stationary vehicle - Lister Junior (light bulbs) owned by Mr Ivan Barratt. Sponsored by Robertson's Jewellers

This 20th anniversary Wheels was a huge success – more Exhibitors and Public than ever and a great team of volunteers supporting the members of Wadebridge Rotary Club on the day. As Martin Broadfoot said: "We are immensely grateful to all the local people and organisations that help to make this event such a great family day out; without them Wheels would not be the same. So may I take this opportunity to say a HUGE Thank You to everyone involved."

As always the final sums are still be added up and donations counted – interestingly the Exhibitors (they enter free of charge) were asked if they would like to make a modest donation to the headline Charity (The Cove Macmillan Support Centre at Treliske Hospital) using a Just Giving facility set up by the Club and this has produced a significant sum to add to the total. So thank you Exhibitors!

Wadebridge Rotary Club members now have the pleasant task of deciding just how to distribute the net proceeds – believed to be around £20,000, once all the income is received and costs settled – among the charities, projects and local organisations.

Well, as the sunshine continues, plans now begin to be made for Wheels 2017 and the the date for your diaries is Sunday 16th July.


Report by Graham Renwick. Photos by Jane Pickles