Staines-upon-Thames Santa Fun Run 2017
Staines-upon-Thames Santa Fun Run, Sunday, 19th November 2017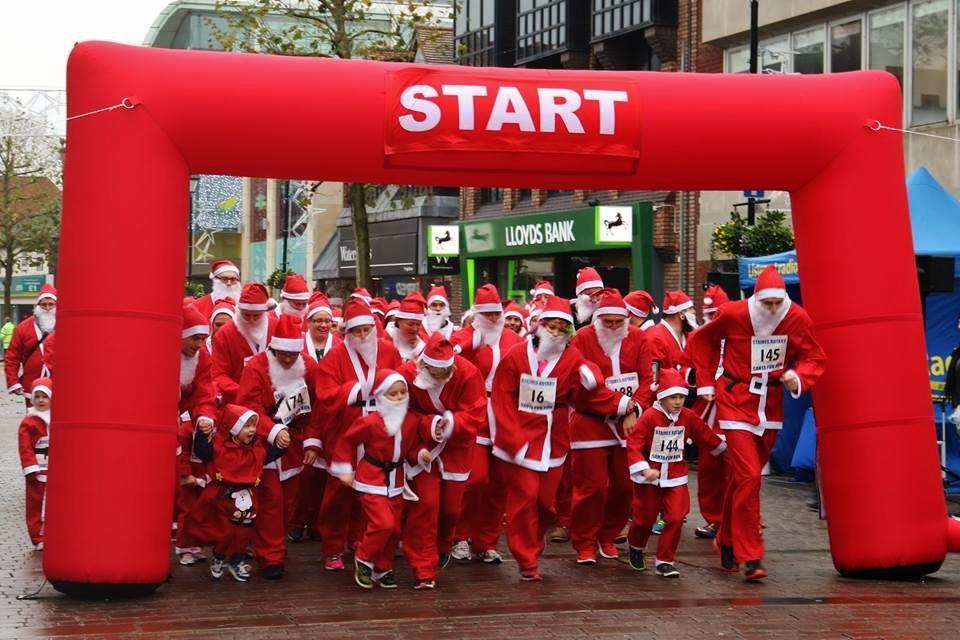 The Staines-upon-Thames Santa Fun Run is a great event for friends and family to dress up and paint the town red with hundreds of Santa's running walking and wheeling around town.
The event is Organised by the Rotary Club of Staines, supported by the Elmsleigh Centre, the Two Rivers Shopping Centre and the Staines-upon-Thames BID, whose Christmas Parade is being held the same morning. Santa's are invited to join the Parade.
This year's 3.5km run or walk run will finish just as the Christmas Parade starts and all participants are invited to join the parade.
Entrants will be provided with a Santa suit and hat, a participant number and a beard for adults. They can be customised to suit individual style. All finishers will receive a Medal.
The start will be at 10am and will be over a distance of 3.5km and will be around the town centre starting in the High Street. The route followed will be relatively flat and suitable for everyone, including those with pushchairs, buggies and wheelchairs. We will also be providing a fun warm up before the run starts! Entrants should arrive in the High Street by 9.30am for the warm up before the event starts at 9.50am.
To enter, click
here
, where you will be able to register and pay using a debit or credit card of your choice. Once you've completed this, you will be sent an email confirmation of your entry to the event, including when and where to pick your Santa suit(s) up from. We can also arrange to have your Santa suit(s) delivered to your home address.
Entry to this event is just:
£12.50 for an adult (18 and over)
£10 for a young person (aged 12 to 17)
£5 for a child (aged 5 to 11)
£30 for a family (two adults and two children)
£45 for a corporate (four adults)
Free for a child (aged 4 and under)
Funds raised from this event will be split between local charities.
Would like more information? Then why not check our
Frequently asked questions
page for further answers to general queries or if you have a specific question, get in touch with us through our
Contact us
page.
Click here and register for the fun run.