A community project whereby hearing loops are checked and hearing loss awareness is increased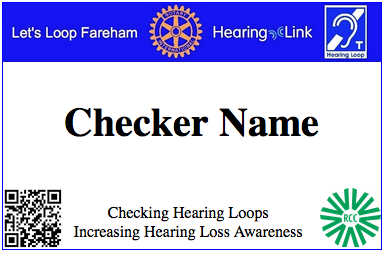 Show related pages
The project was started in November 2015 following a visit of Tim Mason, an e-Rotarian, who started the Let's Loop Swindon project.
A list of premises such as pharmacies, banks, supermarkets, churches and community centres is created and allocated to the loop checkers. These consist of teams of two people, usually one with a hearing aid and the other with a hearing loop tester (a small box with headphones). Each team, wearing their badges, visits one of the premises and carries out an audit. The audit checks the signage, the quality of the hearing loop and the knowledge and helpfulness of the staff. The results are fed into a web page and sent to Hearing Loop who will be able to contact the head offices of the sites and improve the hearing loop provision.

The training of a a loop checker consists of a theory presentation followed by a practical session whereby nearby shops are visited and their hearing loops checked.

The project is managed by a Steering Group under the auspices of the Hearing Link charity. The project has its own web site where further information can be found.