For many years Santa has visited Witham in December to make collections to support the charities the Rotary Club sponsors. You may see him at the town's supermarkets, or on his sleigh somewhere in the streets of Witham talking to excited kids. Because of Covid regulations, Santa was not on public view in 2020 and was limited on what he did 2021 too. Next time (2022) Santa should be back and you will be able to see where he is on a map as he tours the streets of Witham.
You will need get a Santa Sleigh Tracker on your smart phone to follow his street by street tour on a map of your area. The tracker will be available from November.
See how to get the Tracker app below and on Facebook at Witham Rotary.
Nearer time, the bottom of this page will show a list of Santas touring routes and static collections with dates and times. Santas Elves will not be knocking on doors so the Sleigh Tracker will be important to see where his sleigh has got to.

For DONATIONS at any time of the year go to https://www.justgiving.com/campaign/SantainWitham where we accept cash and the cards shown:

Also the QR code below will take your phone straight to the donation site where you can choose the amount you wish to give. You will get a reciept on your phone.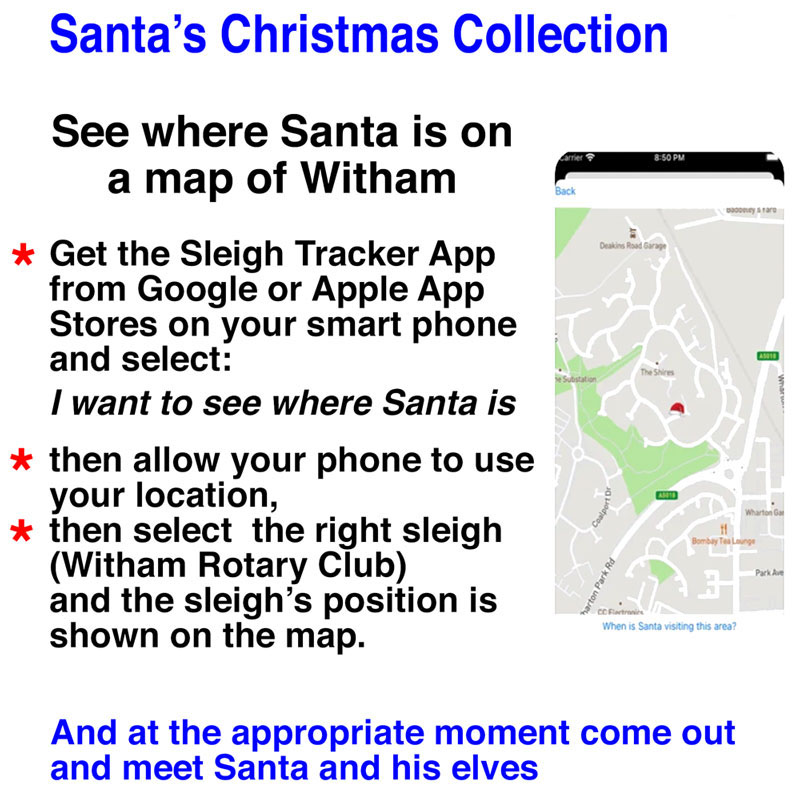 Below will appear in November a list of Santa's routes and static positions for collections, 2022