Polio Awareness: International food tasting
Sat 11th March 2017 at 6.30 pm -
Polio awareness fund raising event with tasting of food from around the world. Harry Gration hosting the event.
A great success: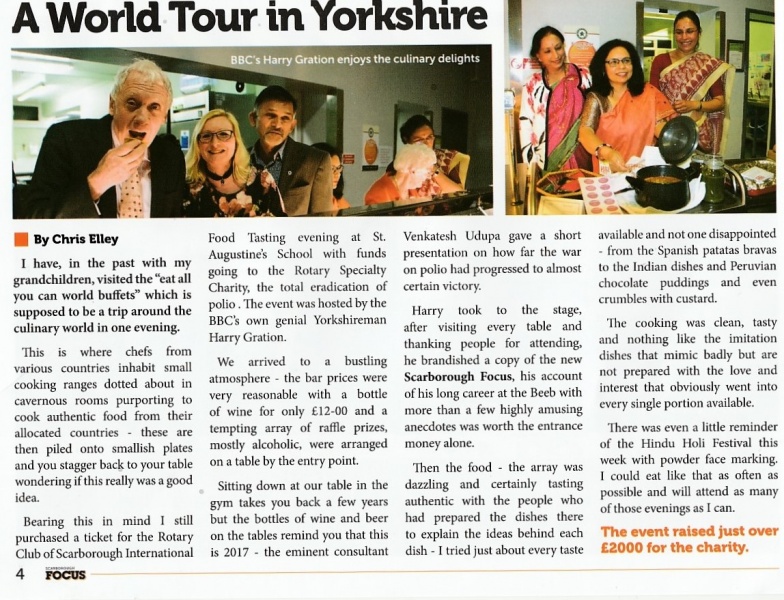 BBC broadcaster hosts international food tasting evening in aid of eradicating polio
The evening, took place at St. Augustine`s school on Saturday, March 11, hosted by BBC journalist and broadcaster Harry Gration MBE at St . Augustine`s school.
Club members prepared a great variety of international food from the Far East, Asia, South America, as well as Europe.

The evening raised about £2,000 which is generously matched by the Bill and Melinda Gates Foundation on a two for one basis lifting the total to £6,000.

On line donations to the polio eradication project are open until the end of March.
Click here to donate to help eradicate polio.
LETTER FROM BILL GATES in 2015 - THANKS to all contributing towards polio eradication
To everyone involved in the fight against polio,
Ten million children are alive and walking today because of your efforts to eradicate polio.
They will never know your names or what you have done for them. But if they did know, I believe they would want to say: Thank you.
Thank you for everything you are doing to wipe out this crippling disease.
Thank you for blanketing the world's largest cities and its smallest villages—sometimes even risking your own lives—to make sure every child is protected from polio.
We have come so far—more than 99 percent of the way—and eradicating this disease is within our reach, as long as we keep up the effort.
For me personally, it is an honor to support your amazing work. One day we will come together to celebrate the end of polio, and the world will know that it was only possible because of what you are doing.
You have my admiration and my gratitude.
Sincerely,
Bill Gates
PS :: Rotary`s World Polio Day this year is on 24

th

October, 2017 and looks ahead to ending the disease for good.


Topical topics ERADICATE POLIO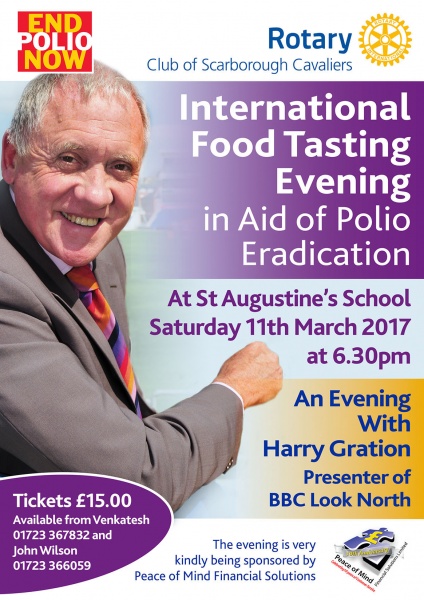 Saturday March 11th saw a major event at St Augustines School - hosted by Harry Gration, fund raising for the Spring, "One Last Push" campaign to eliminate polio from the world for good. It signalled the start of a campaign to raise awareness and funds by Rotary Club of Scarborough Cavaliers.
Good news - for a change! YOU can help finish off polio for good. The disease is nasty but the numbers are GOOD
In 2016 there were just 37 cases worldwide in three countries (Afghanistan,
Pakistan and Nigeria).
DOWN from 340 cases in 2014.
DOWN from 350,000 cases in 125 countries twenty years ago – three billion children immunised.
This is a stunning, little known, international, lifesaving, health giving, sustained project and now within sight of the SUCCESS of consigning polio to history (along with smallpox).
More
GOOD NEWS any donation via Rotary will be matched two for one for a limited
period by the generosity of the Bill and Melinda Gates foundation.
Click here to donate to "one last push" to eradicate polio
The programme is the largest- internationally-coordinated public health effort in history; spearheaded by World Health Organisation, Rotary International, the US Centers for Disease Control and Prevention and UNICEF and supported by the Bill and Melinda Gates Foundation.
Delivering the vaccine is a global network of more than 20 million volunteers.
BUT the immunisation programme MUST continue (to be funded) until every last threatened child is vaccinated and the virus is dead for all time. If the wild polio virus, cannot find an unvaccinated person to infect, it will die out.
Please donate NOW, if you can, to support Rotary Club of Scarborough Cavaliers in our efforts to raise funds for this project. Click here to donate to "one last push" to eradicate polio
Please SHARE this with your network.
£15 buys vaccine for 100 children. £50 buys 100 vests for volunteers SO please join in the last push –
Click here to donate to "one last push" to eradicate polio
MANY THANKS - you have just done a GOOD deed