2017 Summer Fair & Charity Bazaar
Sat 3rd June 2017 at 10.00 - 16.00
RC Buxton's Summer Fair & Charity Bazaar, 10am-4pm, Gardens Marqueé, Pavilion Gardens, Buxton. FREE ADMISSION. Lots of interest and action for everyone in the family!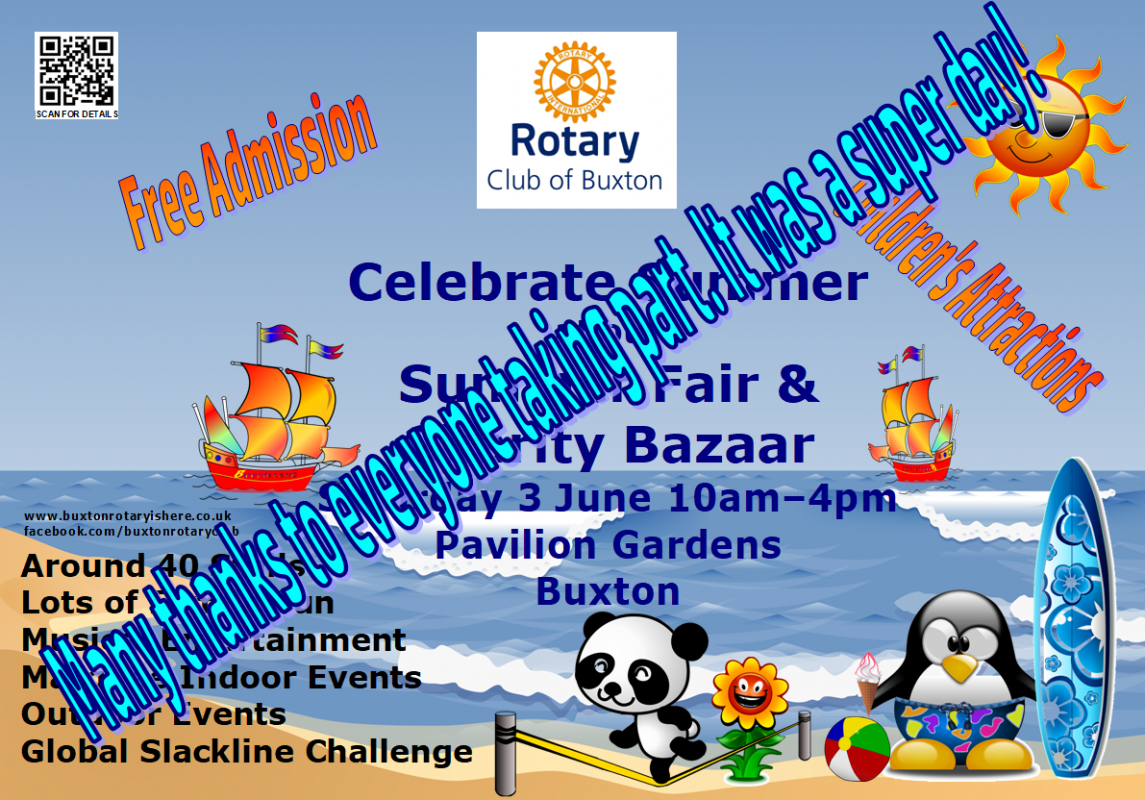 We are in the Pavilion Gardens Marquee but have lots of events and activities outside, including Gibbon Slacklines' Global City Balance Challenge 2017 (we're listed as 'Buxton Summer Festival').This year's Fair has a new look - a 'Celebrating Summer' theme, with the Marquee and stalls decorated accordingly! As last year, it's FREE ENTRY. There's also the GRAND DRAW: £250 in cash prizes and many excellent prizes donated by local businesses (50p/ticket) ... and lots of new stuff outdoors for everyone in the family, including six food stalls if you are feeling peckish! Scroll to the bottom of the page for Outdoor Events Map and Time Table of Events.

Global City Balance Challenge 2017 (Gibbon Slacklines)

Can you balan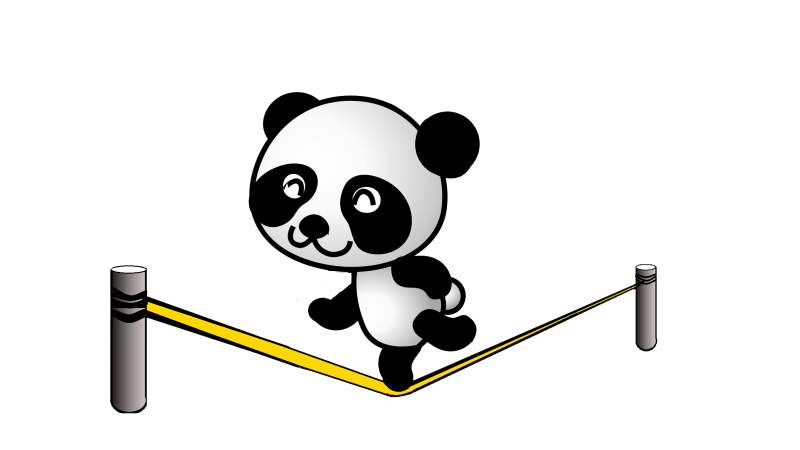 ce on a slackrack for 10 seconds? Help Buxton compete against other towns and cities around the World and enter as many persons as possible who can do this at our Summer Fair & Charity Bazaar. Organised by James Craig and other University of Derby students who can be seen slacklining regularly in the Gardens. For details, see Buxton Enters Global City Balance Challenge 2017
Inside the Marquee
Stalls & Goods
Toys; Accessories & 'Make Your Own'; Bric-a-Brac; Games of Chance; Cakes; Handmade Crafts; Jams; Chutneys; Plants; Crafts (various); Fancy Goods; 'Good as New'; Handmade Cards; Artworks (various); Jewellery, Scarves, Handbags; Charity Merchandise; Books; Bunting
Entertainment
Story Teller; Colouring Competition; Rec Youth Theatre Workshop; Making Pottery etc for kids; Spiral Wishing Well; Splat The Rat; Face Painting; Have A Go Puppets; Shadow Puppet Making; Games and Quizzes; Chocolate Tombola (and others); Children's Hand Writing & Picture Competitions Exhibits; Hook-a-Duck; Magician & Bending Balloons ... and more
Mayoral Visit
High Peak Mayor, Councillor Matthew Stone, visits around noon to meet stallholders, judge the best 'themed' stall (£50 prize) and award prizes for the children's competitions
Outside the Marquee & In The Gardens

Food Stalls; Model Boats on Lake; Donkey Rides; Samba Band; Soap Bubbles Display Brass Band; Inflatable Slides; Bouncy Castle; Erin Hounds; Treasure Trail; Games of Skill; Sandy Beach; Space Hopper Races; Roundabout; Trampoline; Global Balance Challenge … and more, weather permitting. See Timetable. If not listed there, the event is on all day.

Organisations Having Stalls
RSPCA; Handmade Cards and Crafts ; Harpur Hill Residents Association; Neema School Kenya Trust; Voluntary and Community Services Peaks and Dales; St. John the Baptist Church; The Christie Hospital; German Shepherd Dog Rescue; Queens Court Social Club; Q's' Jewellery; Stockport Canal Boat Trust; St Paul's Church Doveholes; Buxton and Beyond Macular Support Group; Inner Wheel Club of Buxton; Guide Dogs for the Blind; Friends of Oignies; Derbyshire Freemasons; Helen's Trust; Babbling Vagabonds Storytelling Theatre Company; The Rossendale Trust; P.S.P. Organisation ; High Peak Arts; Blythe House Hospice; Buxton Civic Association; Grapevine Project; HummingBird Project; British Heart Foundation; The Children`s Society ; Buxton Sparkles; Earl Sterndale, Hollinsclough, Monyash Chapels; Little Heartbeats; Funny Wonders; Fun2Do; Beth sells Books; Lets Create; Parkinsons + Fairfield Older Persons Group; Erin Hounds (outside Marquee) Layout of Stalls in the Marquee
Organisations donating Prizes and/or helping make this A Great Day Out

Bar Brasserie; Buxton Dairy Supplies; Coach House; Fairfield Builders; Gibbon Slacklines; High Peak Radio; Inner Wheel Club of Buxton; Lee Wood Hotel; Marks and Spencers; No 6 The Square; Old Hall Hotel; Ryman (Buxton); Simply Thai; St Moritz Café ; Terry Peel & Crown Scaffold; The Hydro Cafe; The Source; University of Derby; WHSmith (Buxton); Buxton Advertiser
The Beautiful Town of Buxton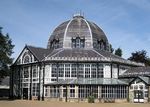 Buxton, England's Leading Spa Town, borders the Peak District National Park, and has excellent hotels, restaurants and an Opera House. View our Town's 2-minute Video to see for yourself! Find your way around Buxton via Town Map, but check our Weather before you come!

Outdoor Events Map (events listed here but not in Timetable are on all day)
(Subject to possible last-minute minor change, so come back on 1st-2nd June to check)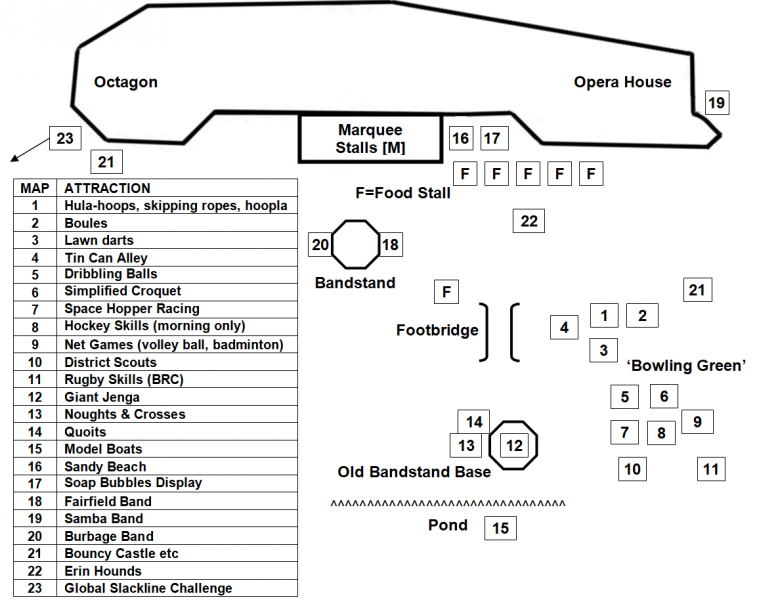 Time Table of Events
(Subject to possible last-minute minor change, so come back on 1st-2nd June to check)
Gardens Marquee Stalls, Model Boats in Pond & Attractions in the Gardens (Map). On most of the day unless Timetabled below
ATTRACTION/EVENT TIMETABLE

10.00

Fair & Bazaar Opens

10.00-12.00

Hockey Skills [8]

10.00-14.00

Treasure Hunt Opening Time for Starting [M]

10.30-11.30

Fairfield Band at Bandstand [18]

11.00-12.00

Magician & Bending Balloons [M]

11.30-12.30

Samba Band in front of Opera House [19]

12.00-14.00

Rugby Skills (BRC) [11]

12.00-12.30

Soap Bubbles Display [17]

12.00-13.30

Mayor judges stalls & presents children's prizes [M]

13.00-14.00

Samba Band in Spring Gardens

13.15-14.15

Rec Youth Theatre Workshop [M]

14.00-16.00

Burbage Band [20] at Bandstand

14.15-16.00

Storyteller [M]