Youth Speaks 2017
A competition in public speaking for young people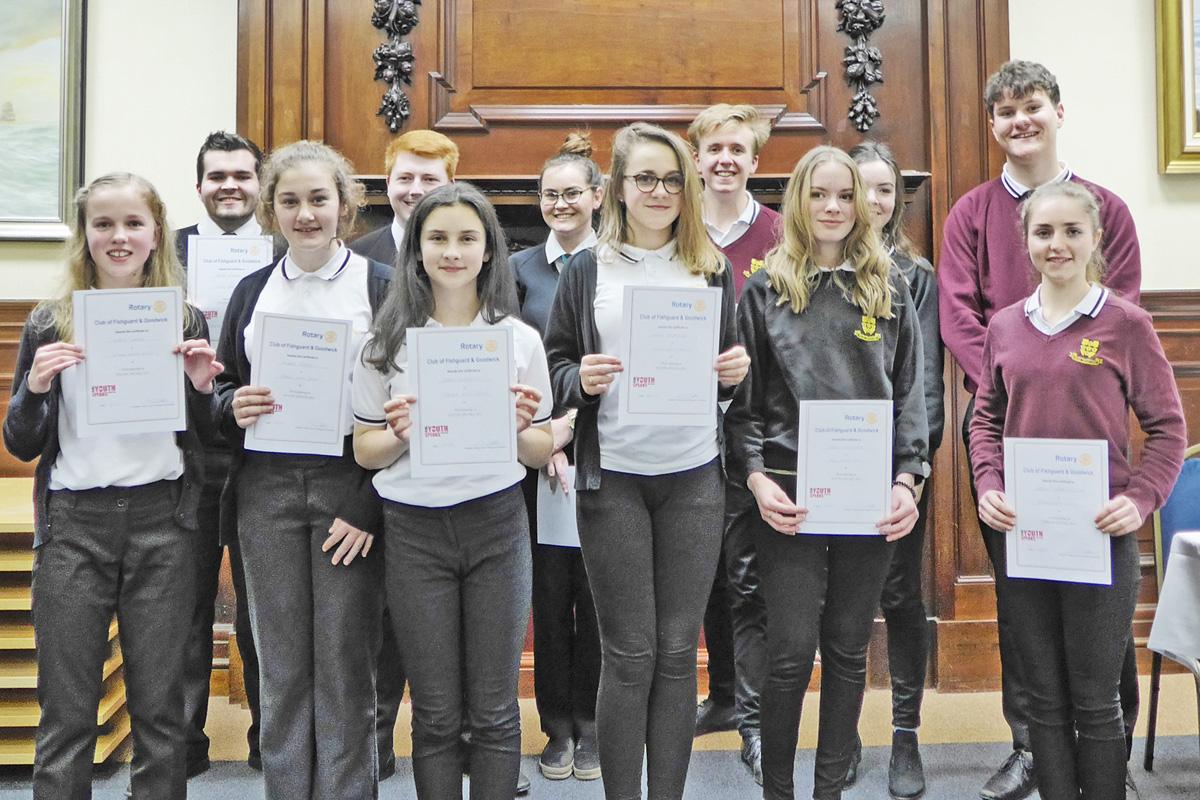 Teams from Ysgol Bro Gwaun and Ysgol Dewi Sant participated in the Youth Speaks competition organised by the Rotary Club of Fishguard and Goodwick on January 17 at the Bay Hotel. This annual event gives students the opportunity to develop their skills and confidence in public speaking.
Rotarian Maggie Stringer welcomed the large audience of parents and supporters and especially David Haynes , headteacher Ysgol Dewi Sant, and Ros Bushell from Ysgol Bro Gwaun. She went on to introduce the adjudicating panel of Dick Russill, Perys Worth and Charles Rawsthorne and explained the format of the competition. Each team comprised 3 members- a chairperson, a speaker and a proposer of the vote of thanks. The speaker also had to respond to a question relevant to the topic from an independent person, Prof John Ratcliffe.
Two teams entered for the intermediate age group competition , both from Ysgol Dewi Sant. Team 1 , comprising Amber Platel, Isobel Howe, and Zara Simpson considered the pros and cons of modern technologies highlighting how excessive use can hamper the development of personal skills. Team 2, comprising Anya Walker, Mary Raymond, and Cerian Churchill discussed 'Flying high' - how drones can improve management of commercial agriculture.
Two teams also entered for the senior age group competition. The team from Ysgol Dewi Sant, comprising Tommy Reynolds, Ewan Miles and Robyn Martin-Smith discussed ' Korea: hazards of worshipping education'. The debate drew on the recent experience of Dewi Sant students who had spent time in a school in South Korea and which was the recent subject of a BBC TV programme. The last team was from Ysgol Bro Gwaun comprising Tomos Salmon, Tomos Evans and Lucy Macleod. They debated the threat big companies pose to local businesses, comparing and contrasting how towns in Pembrokeshire have developed.
Summing up the session, adjudicator Dick Russill congratulated all the teams on the high standards of their presentations and offered practical advice on how to avoid common pitfalls of public speaking and how personal skills can be improved. He concluded with the recommendation of the adjudicators that Team 1 from Ysgol Dewi Sant should go forward to the next round to represent the intermediate age group and the team from Ysgol Bro Gwaun to represent the senior age group.
This successful event concluded with the presentation of certificates to the participants by President Vanessa Walker.
JGR 18/01/17