This is a relatively new category of membership which allows individuals interested in Rotary to become involved without committing to joining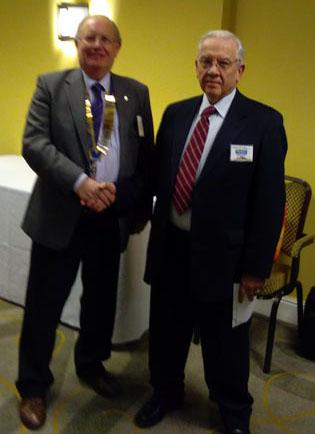 PICTURE: Robin Kenward was one of first Associate Members. Robin is a retired pharmacist and Chairman of REMAP (a voluntary organisation which makes specialist equipment for disable people). He has since 'upgraded' to full membership and has even volunteered to take on the role of Treasurer for 2017-18. Joining as an associate allowed Robin to use 'try before you buy' membership and we are delighted that he has chosen to stay with us!
Associate Membership:
Associate membership provides the opportunity for you to get to know our club and its members over an agreed period, at minimal cost and free for the first six months. This is an informal membership programme to allow potential members to 'try before they buy'
As an associate member, you are welcome to attend all club meetings, join committees and be involved in all our club and social activities.
This is a great way to introduce you to the club and its members and it gives us the opportunity to build a relationship with you and get to know your areas of interest.
If you would like more information on associate membership or would like to come along to one of our meetings or events, or contact our membership team, details below.