Boost for Scout Group
Show related pages
The following item appeared in the Portsmouth News on 31 January 2017 - spotted by Brian Ray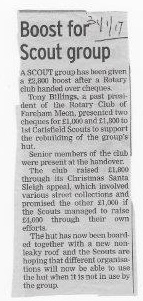 The text reads:
A Scout group has been given a £2,800 boost after a Rotary Club handed over cheques.
Tony Billings, a past president of the Rotary Club of Fareham Meon, presented two cheques for £1,000 and £1,800 to the Ist Catisfield Scouts to support the rebuilding of the group's hut.
Senior members of the club were present at the handover.
The club raised £1,800 through its Christmas Santa Sleigh appeal which involved various street collections and promised the other £1,00 if the Scouts managed to raise £4,000 through their own efforts.
The hut has now been boarded together with a new non-leaky roof and the Scouts are hoping that different organisations will be able to use the hut when it is not in use by the group.