Youth Opportunities
Activities and Youth Projects
Students of the Term Awards July 2017 with President Axel Macdonald
The winners of the Student of the Term Awards April 2017
Youth Opportunities organises many events in Didcot for young people.
This includes an Interact Club at Didcot Girls School and a Youth Speaks competition where this achool had two team winners to go to the next round.
Verse Speaking Competition
Well done to all the finalists in our Year 5 Verse Speaking Competition, held at Didcot Civic Hall on 8th March.
The competition attracted 146 entries, from schools in Didcot, Harwell and Chilton. Fourteen made it to the Grand Final. The standard was very high and it was a difficult decision for our judges who chose Emma as the overall winner.
The group photo shows the children with Club Member Paula Taylor, who coordinated the event, and the Club President Ilia Mavroleon. All the finalists recieved a personlised certificate and a WH Smith token.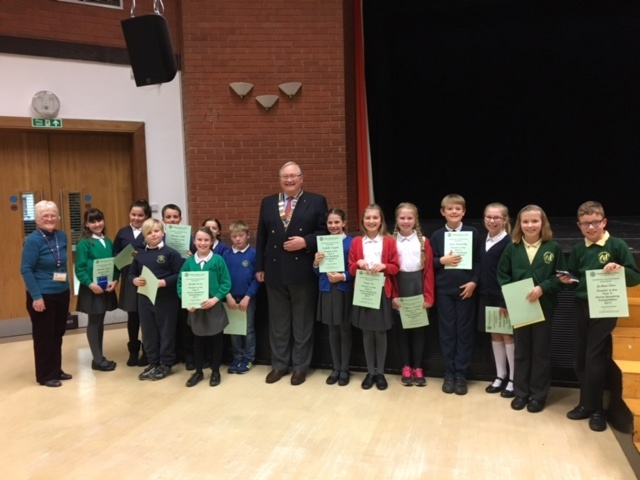 Dictionaries for Life
55 books ordered for Wilowcroft School
RYLA
Candidate being sort for the course from 22nd to 29th July this year.
Interact Club
Didcot Interact Club continues to have around 24 regular attendees.They are continuing to raise money to pay for the education of their sponsored student in UGANDA.