Show related pages
BEXHILL ROTARY CLUB HELP
SENLAC DISTRICT SCOUTS KITEYE WOODS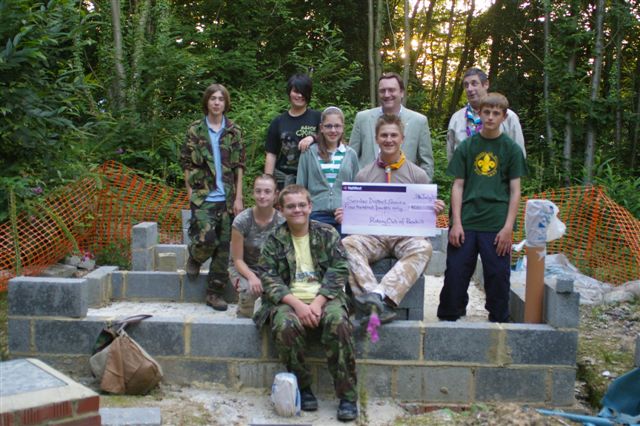 Senlac District Scouts have been working for a number of years to establish and develop facilities in Kiteye Woods, Freezland Lane.
Current capital projects include the supply of fresh water, at a cost of more than 8,500 and scheduled to be connected within the next year as well as the construction of a new toilet block. When the water has been connected and the construction of the toilet block is complete, Kiteye will provide a first class recreational amenity not only for the Scouts but also to be shared with other organisations in the community.
The Scouts contacted Bexhill Rotary Club and requested assistance in funding the toilet block which they had started building with volunteer labour last autumn and consists of both disabled and regular facilities, designed by Mike Clark, Scouts Explorer Leader, with the help of a friend of his who just happens to be a Contract Manager with a national building company.
So on Friday evening, 13th July, while 3rd Bexhill Scout Group were having their Annual General Meeting, Rotary President John Meadows presented District Commissioner Cliff Wilson with a cheque for 400 toward their building cost.
The scouts hope that the project will be complete by next year providing that they continue to attract donations and volunteer skilled and unskilled labour.