SADDLEWORTH ROTARY CLUB CELEBRATES ITS CHARTER NIGHT IN STYLE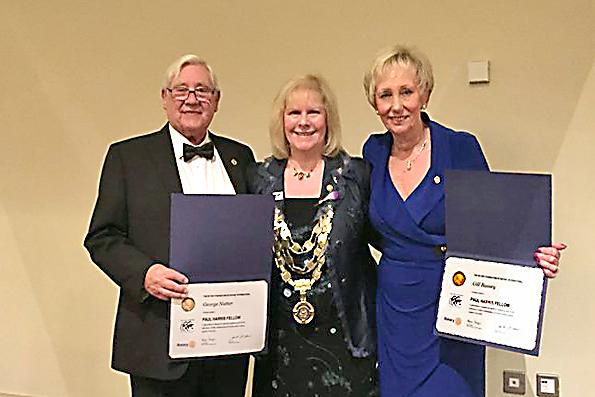 SADDLEWORTH ROTARY CLUB CELEBRATES ITS CHARTER NIGHT IN STYLE
Saddleworth Rotary Club held their annual Charter Night at The White Hart on Wednesday 22nd February. This traditional and impressive Rotarian event, which is celebrated in Rotary Clubs the world over was very well attended by members, officers and guests from other clubs. It is to commemorate the founding of each individual Rotary Club - of which there are very many, globally. We were particularly fortunate at this year's event to have as our speaker, Eve Conway. Eve is the President of Rotary International in Britain and Ireland and is a well-known and respected figure on the national Rotary stage. After a delicious three course meal, the Club heard speeches from various members celebrating the work and traditions of Rotary here in Saddleworth, locally, nationally and world wide. This most convivial evening culminated in a passionate speech from Eve, focussing on the hugely successful Rotary campaign to eradicate polio the world over."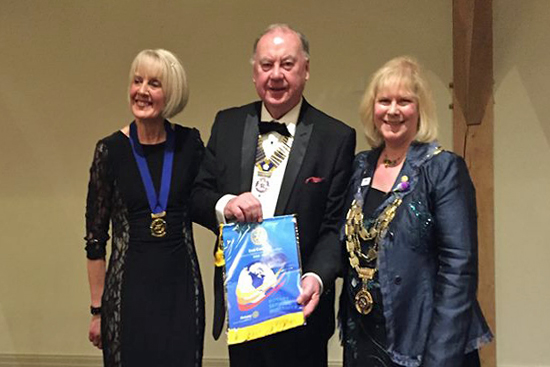 Susan Burke (Saddleworth Rotary President's Wife), Tony Burke (President) and Eve Conway (Rotary GB&I President)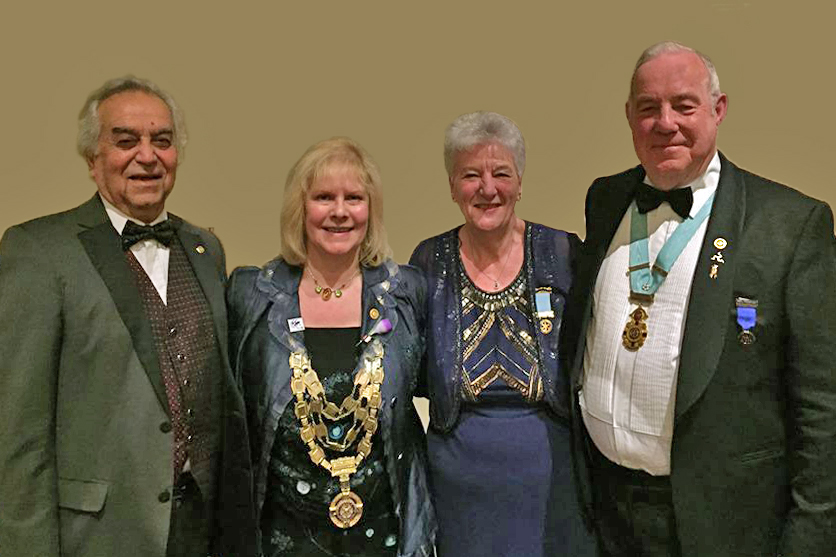 Robert Ghazi (Rotary GB&I's President's husband); Eve Conway (Rotary GB&I President); Stan Bowes (District Governor); Sheila Bowes (District Governor's Wife)
SADDLEWORTH ROTARY CLUB PRESENTS PAUL HARRIS AWARDS
Just preceding Eve's speech, the Club announced this year's recipients of the most prestigious award possible in the Rotary Movement - the Paul Harris Award. This year, it was presented to Rotarian George Nutter for services to Rotary. George is one of the most long standing members of the Club. The second Paul Harris award was given to Honorary member, Gill Bussey for her tireless fund raising and charity work in the Community.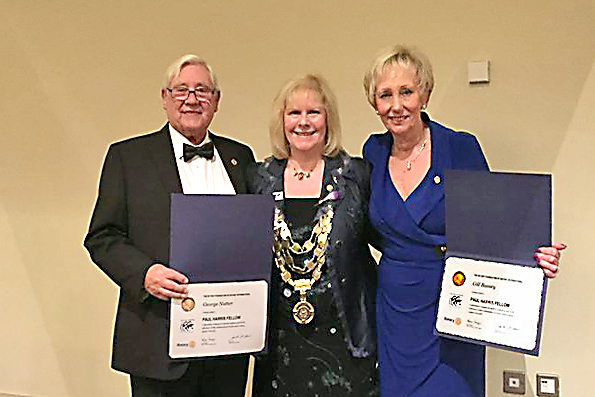 George Nutter (Rotarian), Eve Conway (Rotary GB&I President), Gill Bussey (Honorary member)
If you would like to find out more about the Rotary Club of Saddleworth or, indeed, come to a meeting - please phone our Secretary, Clint Elliott on 07778160008.