Guarding the Royals
Former Metropolitan police officer Simon Cousins gave us a fascinating talk about his 13 years as part of the Met's Royal Protection Squad.
Accompanied by photographs showing him alongside various members of the Royal family Simon's talk explained how after several years as a beat bobby in North London he had responded to an internal advertisement to join the protection squad and, despite competition from over 300 applicants, had been one of those selected. Intense training for the role had covered wide range of activities such a self-defence and high speed driving and a rugged period at the SAS base in Herefordshire.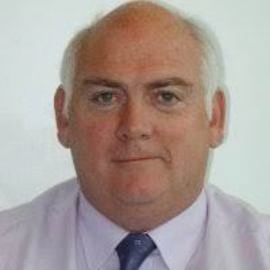 Following the Royal family his duties had included accompanying a 3-year old Prince William to nursery school with Princess Diana and he later became the main responsible officer for Princess Margaret.
The family's annual diary commitments had taken him to leading venues in UK and abroad: Balmoral, Royal Ascot, San Francisco, Mustique and days aboard the Royal Yacht Britannia. While this champagne lifestyle had been extremely enjoyable and attracted the envy of his uniformed police colleagues, the many days spent away from home meant that he had missed important events in his own family such as his son's birthdays.
Although Simon had never himself had to counter an attack on a Royal, the dangers faced by the protection officers had been illustrated by the 1974 attack on Princess Anne in the Mall when protection officer James Beaton had been shot and badly wounded when successfully preventing her abduction by Ian Ball, a would-be blackmailer who had planned to hold her for ransom in a basement flat in Ealing. The Princess had visited James in hospital to thank him and he had later been awarded the George Medal for his bravery.
Simon left the Met in 2004, joined the Independent Police Complaints Commission and subsequently set up his own investigations and security Services Company. Now mostly retired he is a keen supporter of the England cricket team and followed recently on their tour of Antigua and Barbados.