During 2016 we worked with two local schools to fill shoeboxes for the Rotary Shoebox Scheme. Early in the year David Hodges alerted us to an opportunity to help Young Epilepsy who had instigated a separate shoe box scheme but had some boxes over. We supplied them with the official Rotary Shoeboxes and as a result of the efforts of the staff and students at Young Epilepsy eleven shoeboxes were despatched.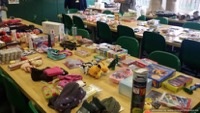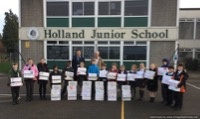 During the autumn term, and as part of our partnership with Holland Junior School, we helped the school to fill shoeboxes with gifts for refugee children. The children, supported by both staff and parents, filled a total of 60 shoeboxes.
The photos show the gifts ready for packing and 18 of the children with the 60 filled shoeboxes together with the headteacher and our Club President, Roger Fox.