Lostwithiel Carnival week
Sun 16th July 2017 at 12.00 pm - Sat 22nd July 2017 - 8.30 pm
A week of merriment and sport from 16th - 22nd July 2017 that everyone can enjoy, with Charity Fete Day, Its a Knockout, Raft Race, Cricket, Rounders, Pram Race, Concert, Street Party, Duck Race, Live Music, Football, Spot the Stranger and Carnival Parade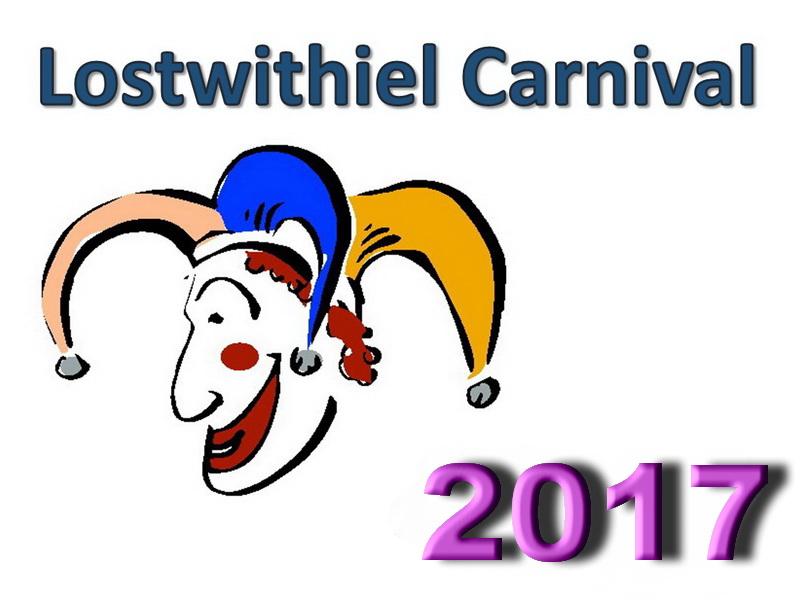 The Rotary Club of Lostwithiel is proud to announce the programme of events taking place in this year's Town Carnival. Full details may be found in the Carnival Programme, which will be delivered free of charge to each and every household within Lostwithiel during the fortnight leading up to carnival.
Lostwithiel Rotary Club disclaimer
Lostwithiel Carnival Week participants must assume liability for any injury or harm they cause or receive during carnival and they should cover such risks by their own insurance arrangements. Insurance cover is not provided by Lostwithiel Rotary Club in respect of any injury whilst participating in the events of Carnival Week.
Sunday July 16th - The Webbers Estate Agents Charity Fayre & Regatta Day
Organised by Rotarian Anthony Berry (07834 560473, regatta@lostwithielrotary.co.uk).
A day full of fun (and hopefully sun) starting at 12 noon in the King George V Playing Field and finishing at around 6pm. As in previous years, the day will commence with the Flora Dance led by the Town Mayor, Pam Jarrett, and our new Rotary President, Clive Littleton, but please note this year's earlier start time.
There will be live music all day long from Brannel Entertainment, the Lostwithiel Town Band, Lost in Song and other local talent. A barbecue and beer tent will be provided by the Lostwithiel Young Farmers Club and a host of charity stalls will be exhibiting around the field, including the Army Cadets, Scouts, Cornwall Air Ambulance, Rotary and the award winning Cornwall Search and Rescue Team who will be putting on demonstrations during the day. You will also be able to have a go at laser clay shooting, which will be running throughout the afternoon.
The programme for the afternoon will be as follows:
1pm: The Amazing Raft Race (from the A390 bridge to the medieval bridge)


2pm: Webbers' Kids Games (turn up on the day to collect your age group arm band)

3pm: Webbers' It's A Knockout (teams of 6 with four adults / teenagers and two 12's and under)

4pm: Full Demonstration (subject to call outs) by our very own Lostwithiel Fire & Rescue Service of an Road Traffic Collision with a Rotarian being cut out of the car, assisted by Paramedics from Cornwall Air Ambulance (mission depending).

We are pulling out all the stops this year, so come along and join the fun and help make it a brilliant day to remember.
Any charities or fundraisers wishing to have a stall should contact Rotarian Ian Sheer on 01579 320633 for details.
Please complete the entry forms and return them BY SATURDAY 15th JULY to Penhaligons Newsagents, or email them to regatta@lostwithielrotary.co.uk
Monday July 17th - The Parc Signs Six-a-Side Cricket Competition
Organised by Boconnoc Cricket Club in concert with Rotarian Richard Hanson (07985 304152, cricket@lostwithielrotary.co.uk) and sponsored by Parc Signs, PSP Insurance Solicitors (Newquay) and Hot Dog Decals.
First matches start promptly at 5.30pm on the King George V Playing Field. A raffle, barbecue and beer tent will operate throughout the evening. Prize giving will take place in the King George V Playing Field shortly after the final.
Teams are by invitation and are expected to include: Ship Inn Lerryn, Kings Arms, Duchy Timber, Lostwithiel Young Farmers, NFU Liskeard, Globe Inn, Royal Oak, AP Bassett Solicitors, Lorna Wiles Textiles, Boconnoc Youth, Lostwithiel Rotary, Restormel Insurance, Trewithen Dairy and Duchy Nursery.
Boconnoc Cricket Club (established 1846) is Lostwithiel's local cricket club and competes in Divisions 3 (1st XI) and 6 (2nd XI) of the Eastern Section of the Cornish Cricket League. Home matches take place every Saturday during the summer months at the Deer Park, Boconnoc Estate. There are occasional Sunday, weekday and evening friendly fixtures throughout the season.
The club promotes an active coaching and playing policy and welcomes new players and spectators of all ages. Net practice takes place on Tuesday evening at 6.30pm, so if you would like more information, either drop in at the ground or contact Rob Trump (01726 65476) or John Niblett (01579 228149). Alternatively, come along to spectate whilst enjoying a drink in the clubhouse where bar facilities are available after 6pm on match days.
Tuesday July 18th - The Carpet Gallery Rounders Tournament
Organised by Rotarian Anthony Berry (07834 560473, rounders@lostwithielrotary.co.uk) and the Air Ambulance Groundcrew, and sponsored once more by Marcus Wherry (Carpet Gallery).
Another warm summer evening with a barbecue and beer tent, but with a more frenetic and revamped sporting spectacular. The rounders tournament will take place on the King George V Playing Field on the basis of a round robin so that every team will play every other team, leading to a final match to determine the overall winners and the runners up. The tournament start times are:
6.00pm: Juniors (12 years and under)
7.00pm: Open Class
Wednesday July 19th - The Country Fryer Pram Race
Organised by Rotarian Martin Austen (01208 872490, pramrace@lostwithielrotary.co.uk) and Graham Rule (07920 227238) and once again generously sponsored by the Country Fryer.
Entry forms for the Pram Race will be available a week before from Fran's Pantry and Penhaligons Newsagents. They will need to be completed, with parental consent where appropriate, and returned to Fran's or Penhaligons by 3pm on Tuesday 18th July to be sure of taking part.
This year there will be three races: age under 12 years old, age under 18 years old and adults.
The first race will start at 6:15 pm from, as usual, Monmouth Square. The route will be as before and will be published in the Programme. Teams should consist of four persons, one of whom should be in the pram at all times. There should be a minimum of four wheels on each pram and Rotary Stewards will be checking that the construction is safe.
In each race there will be prizes for first and second places and best fancy dress - prizes again thanks to the Country Fryer. Hopefully the extra race will improve safety and lead to more entries. We look forward to the usual terrific turnout and we are sure that all will have a great time.
Please complete the entry form and return it BY NO LATER THAN 3pm TUESDAY 18th JULY to Fran's Pantry or Penhaligons Newsagents. Entries will not be accepted on the day unless at the discretion of the kind person doing the registration.
Wednesday July 19th - The Royal Oak Band & Choir Concert
Organised by Rotarian Andrew Jeffery (07773 334307, concert@lostwithielrotary.co.uk) and sponsored by the Royal Oak.
Remember Carnival Wednesday is music night with our band and choir concert. The concert starts in St Bartholomew's Church at 8:00pm.
This year we have our very own Lostwithiel Town Band, ably under the supervision of their Musical Director, Norman Pendray, who is also well known as a one of the finest exponents of the Post Horn Gallop. The Band is complemented by a welcome return visit of the Polperro Fishermen's choir. On this occasion we are delighted that our Concert Compere is the Reverend Paul Beynon, who needs no introduction as he is our own Rector of the Benefice of Lostwithiel Parishes.
As in the previous years, the concert is free and seats cannot be booked in advance, so get there early for the best seats in the house. There will be a retiring bucket collection at the end of the concert in support of the Friends of St Batholomew's, best known to us all as FOSB, who's mission is to raise money for the maintenance of the Church, so please give what you can.
Our thanks this year go to our sponsors, the Royal Oak. Their support is vital for a successful concert and they have offered to host the après concert soiree where you will be assured of a warm welcome with the opportunity to join informal singing with some choir members. The Royal Oak is only a short walk from the Church, up North Street and then across to Duke Street, so do join us and maybe add your voices to some of the old favourites.
A great evening is assured!
Thursday July 20th - The Globe Inn Street Party & Annual Duck Race
Organised by Rotarian Paul Harrold (07534 453964, streetparty@lostwithielrotary.co.uk) and sponsored yet again by Will Erwin of the Globe Inn.
An evening for the kids, and later on for the big kids. All the usual attractions will be there to entertain the children throughout the early evening, including:
Face Painters
Punch & Judy
Baloon Man
Bouncy Castles
Ann Raymond's Fairground Rides
A Hog Roast will be available whilst stocks last, with a BBQ run by the Young Farmers later on, and the usual outside bar at the Globe will cater for most needs!
Due to adverse tide times, the raft race will be run on Sunday afternoon on Charity Fayre Day, but the ever popular Duck Race will take place off the Medieval Bridge when conditions allow. Live music by "The Prevention" will dominate the evening from 9:00pm onwards. The bar will close at 11:00pm.
Let's hope the weather holds out and that everyone enjoys themselves.
Friday July 21st - The Kings Arms Five-A-Side Football Competition
Organised by Rotarian Alan Dorling (07714 326626, football@lostwithielrotary.co.uk) and Graham Rule (07920 227238) and sponsored by the Kings Arms.
A fun night of five-a-side football competing for the Phil Smith Memorial Trophy. The competition is open to males of 16 years and over, and to females with no age restrictions. Female teams will only compete against other female teams.
The competition will kick off at 6:30pm in the King George V Playing Field. The entry fee for each team is £5. A barbecue and soft drinks will be available for players and supporters all evening. The presentation of trophies will take place at the Kings Arms.
To avoid disappointment, please make sure that your completed forms are returned to Penhaligons Newsagents BY NO LATER THAN THURDSAY 20th JULY
Saturday July 22nd - The Ann's Gallery Spot the Stranger Competition
Organised by Rotarian Chris Jewels (07967 005542, spot@lostwithielrotary.co.uk) and sponsored by Ann's Gallery.
After a week of activities ranging from sports to concerts, Saturday is all about the Carnival, not forgetting of course our Spot the Stranger competition which will will run from 9:30am to 2pm. If you are unfamiliar with this challenge, then you simply look in the shop windows of the town displaying a smiley face to see what is strange in their window (what don't they normally sell) and make a note on the entry form and you could be the winner.
The prize of £10 will be awarded to the first correct entry opened. Entries should be posted in the Spot the Stranger box at Ann's Gallery by 4pm. Don't forget to enter your name and address! The winner will be announced at the end of the Carnival Procession at the Earl of Chatham.
Saturday July 22nd - The Earl of Chatham Carnival Procession
Organised by Rotarian Graham Holland (01726 850153, procession@lostwithielrotary.co.uk) and once again sponsored by Kate & Jackie at the Earl of Chatham.
Those participating in the carnival procession should assemble on the King George V Playing Field by 5:45pm and be ready for judging which will start at 6pm.
The procession classes have changed from previous years with increased prize money.
Classes and Prizes
1st
2nd
3rd
1. Family Groups
£30
£15
£10
2. Walking Tableau 11 years and under
£30
£15
£10
3. Walking Tableau 12 Years to 16 Years
£30
£15
£10
4. Walking Tableau over 16 years
£30
£15
£10
5. Motorised Vehicles *
£30
£15
£10
* The Police request that all entrants in this category possess proof of insurance cover for this event. Vehicles must not contravene their construction and use regulations (suitable use, number of passengers and manner of transportation)
The procession will leave the playing field at 6:30pm, led by the Mayor of Lostwithiel with the President of the Rotary Club of Lostwithiel and our Town Band. The parade will then proceed onto Liddicoat Road (A390) then Fore Street, down around the Parade and up North Street, down Fore Street again, over the bridge and rail crossing, and finally up the hill to the Earl of Chatham.
Prizes for the Carnival classes, along with the Spot The Stranger competition, will be presented in the car park of the Earl of Chatham at approximately 7:30pm
The presentation of the prizes will close the Rotary carnival for another year, but the fun won't stop there. Many of the pubs and clubs in the town will feature live music and will be serving food, so why not enjoy the rest of the evening in our great little town!