KNOW YOUR BLOOD PRESSURE 2017
KYBP 2017- MANCHESTER ARNDALE
Know Your Blood Pressure / Stroke Awareness 22nd April 2017
Another really successful event despite several prospective volunteers having last minute other commitments, we took 751 blood pressures!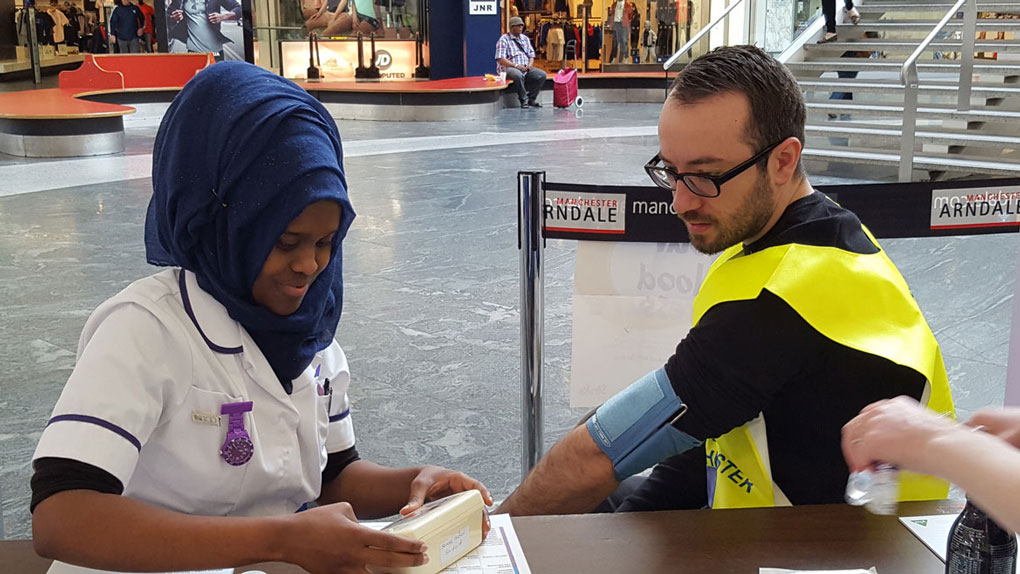 Again, one of the most important aspects contributing to the success of the event, is the fact that the Arndale allocate us a prime site, many thanks to Sonya Nolan for arranging that for us, this allows us to maximise the site, by having more tables and chairs, and therefore the number of health professionals to take blood pressures, we had excellent student nurses (Leigh, Alawiya, Fatima, Charlotte and Eden) and lecture staff Ann Caress and Judy Ormrod, Rebecca from the Stroke Association brought George, Nigel and Caroline, and, of course, we had the wonderful Dr Husaini, Dr Jo Downton and Dr Nilika Perera, Judy, Jo and Nilika are new to the event, and I hope you would like to join us again if you are available!
Of the 751 (356 male and 395 female) people we tested, 199 registered abnormal readings, of those 175 (23% of all those tested) were advised to see their GP within one month and 23 (3%of all those tested) were of sufficient concern to be given guidance to visit their GP within one week, which means that 558 were no further action required, good news! The 3% urgent follow up was fewer than we have previously recorded (usually 5%) Unfortunately though, one lady's reading was so high, that paramedics had to be called, who took her to hospital, we certainly were very grateful for their swift response, and hope that she is now recovering.
Anne Caress emailed me her thoughts about the event "There were two things that struck me this year; first, how few smokers there were; (in total we recorded 121, 16% smokers, but 633 84% non-smokers recorded) there has been a real sea change over the years I've been doing the KYBP events – when I first started doing these around half of the people whose blood pressures I took were current smokers, this year only four people were, other people commented on this as well, and it is fantastic to see! The other thing that struck me was how the KYBP event, although primarily about raising awareness of blood pressure and stroke, is a fantastic opportunity for more general health and lifestyle advice. We talk to people about diet, exercise, smoking, and alcohol intake, we also pick up on other issues. As with last year, the issue of steroid use and body building came up (although thankfully only once!) other issues like anxiety were commonly raised" This year, 43 people were diabetic, 710 non – diabetic, a high number; 363 reported a family history of stroke or hypertension, 297 no history, and 91 don't know. 24 people (3%) reported they had a previous stroke, but 726 no previous stroke. 120 people (16%) were being treated for hypertension, and 36 were being treated for irregular heartbeat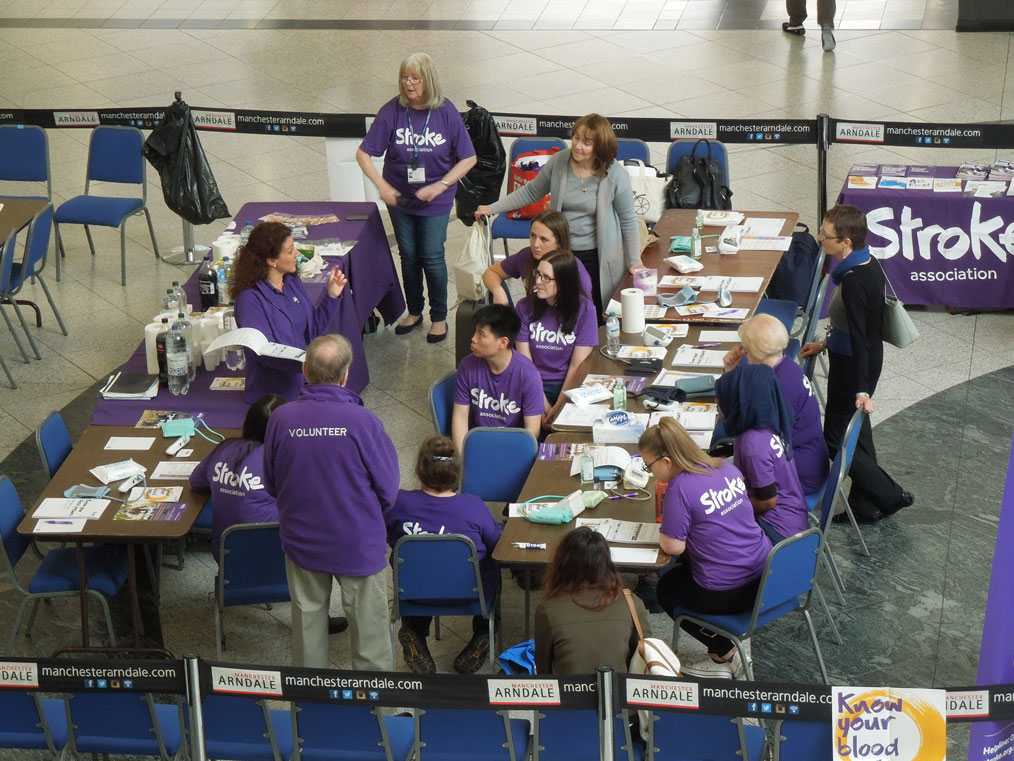 When we engage with members of the passing public, we attempt to encourage an equal number of people of all ages to come forward to have their BPs checked, this year 88 male, and 85 female were between 18 and 29, 80 male and 103 female, were 30 – 44, 99 male and 113 female, were between 45 and 59, 87 male and 87 female were 60 – 85, and 1male and 3 female were over 85.
Those tested included 21 (3%) South Asian, 107 (14%) Other Asian or Asian British, 54 (7%) Black or Black British, 46 (6%) Mixed Race, and 58 (8%) Other Ethnic Group.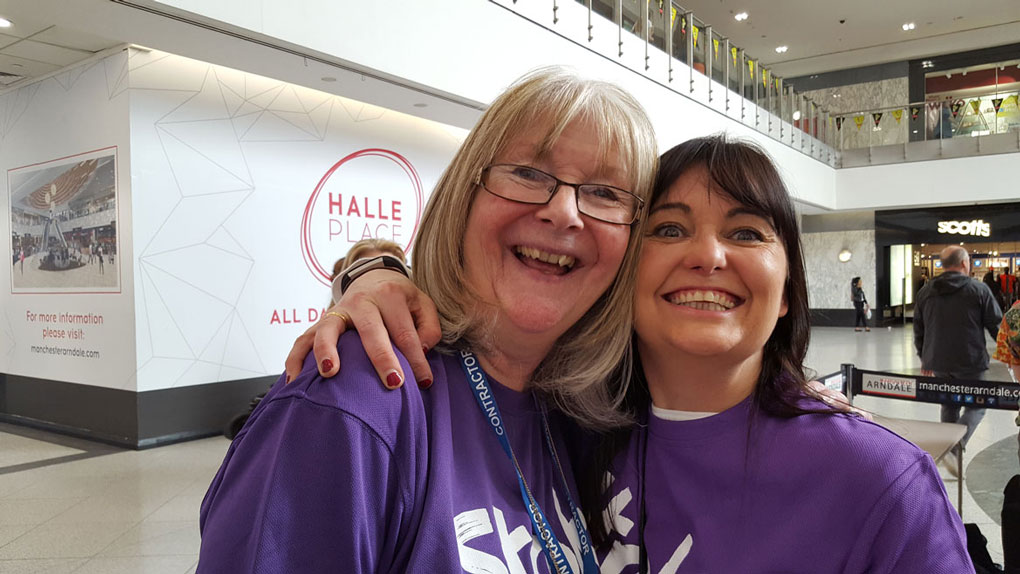 Without the help, enthusiasm and support of all the volunteers, including Rotarians and Friends of Rotary; Peter Hartley, Phil Laker, Derek Evans, Keith Malyon, Ernie Metcalfe, Chief George, John Abbott, Bill Laidlaw, Sinclair McLeod, Sebastian Moldovan, Robin Graham, Sarah Withington, Roy and Julie Chapman, Manuela Costanzo, Bella Rosenthal, Figen Murray and Matt Knighton, Rotaractors, Carriane and Giulia, Manchester University Leadership Programme student volunteers; Selena, Billie, Kirsty, Eugene, Danran, and Jianwei, this event and important contribution to public health could not take place and be the success that it was. This year we were sad, and pleased for him at the same time, that John Dengate, who has delivered and collected the furniture for the event from the University and has supported this event for many years has now retired and lives in Scotland we wish you and your family well John, but the BCL Moving contractors, Simon and Pete, were brilliant, and the support of the Arndale Centre staff, particularly Sonya, so, A BIG THANK YOU TO ALL!!
Barbara Rosenthal 7rdMay 2017