Speaker Evening
Thu 27th July 2017 at 6.45 pm - 8.45 pm
John Hawryluk - 'iDevelop i-Inspire iScout'. Raffle - Alistair Rarity. Reception - Richard Brown / Gerald Smith.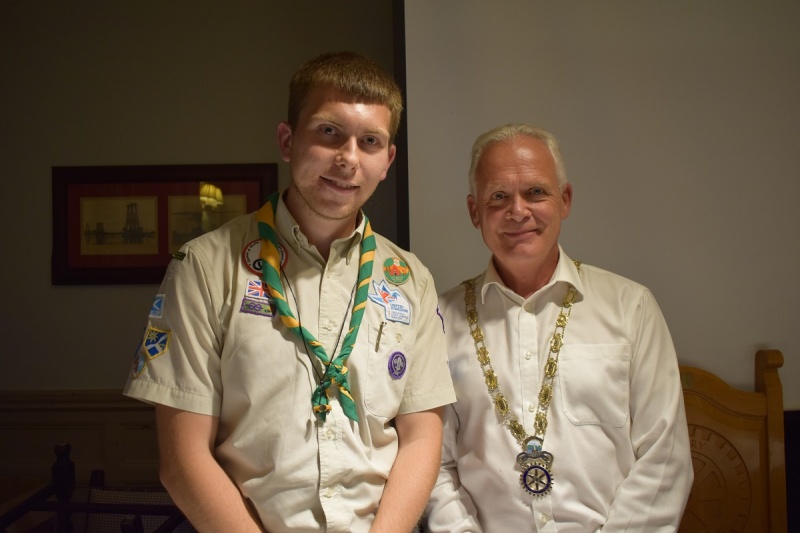 International Scouting was the topic at the Rotary Club of South Queensferry on Thursday 27th July. In a talk entitled iDevelop, iInspire, iScout, speaker John Beaton-Hawryluk outlined the development of scouting on an international level. John is committed to fundraising for UK Scouting. He has competed in several sponsored events such as the Great North Run and the Edinburgh 10k in recent years to boost the UK Scout Association Solidarity Fund. This fund helps young people to participate in International Scouting events when otherwise they would be unable to attend. Scouting not only makes a difference to young people, but can have a very beneficial effect on communities everywhere. Scouting International Jamborees are the best-known rallies where scouts from all over the world meet to share experiences, ideas and friendship. The next World Scout Jamboree will be in North America in 2019. The World Scout Moot is currently taking place in Iceland with a strong contingent representing Scotland. John's enthusiasm for scouting was evident by his splendid presentation which prompted many questions from the floor.
We also had visitors from Roswell,New Mexico. Rotarian Dirk Jones and his wife Tricia were on a trip to Scotland and decided to come and enjoy our Scottish hospitality.