Fife Rotary Clubs contribute to build a Health Centre in a remote part of Uganda
Club members please log in for more information.
2019 - May - Update
David and Helen Lyth revisited Burumbika and reported positive developments, including the award of the essential licence.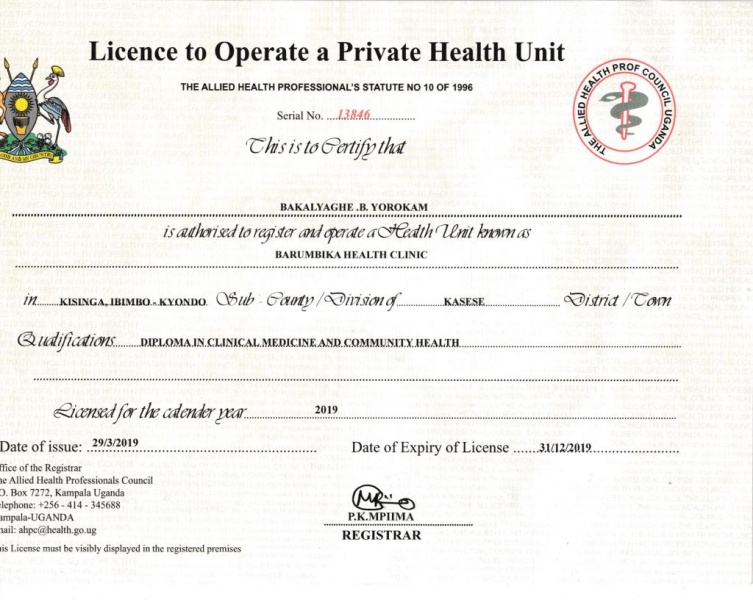 A Townhill surgeon and his teacher wife have just returned from Uganda after celebrating the completion of the £11,500 health centre which they helped to deliver for villagers with whom they worked during their five-year post-retirement mission to Africa.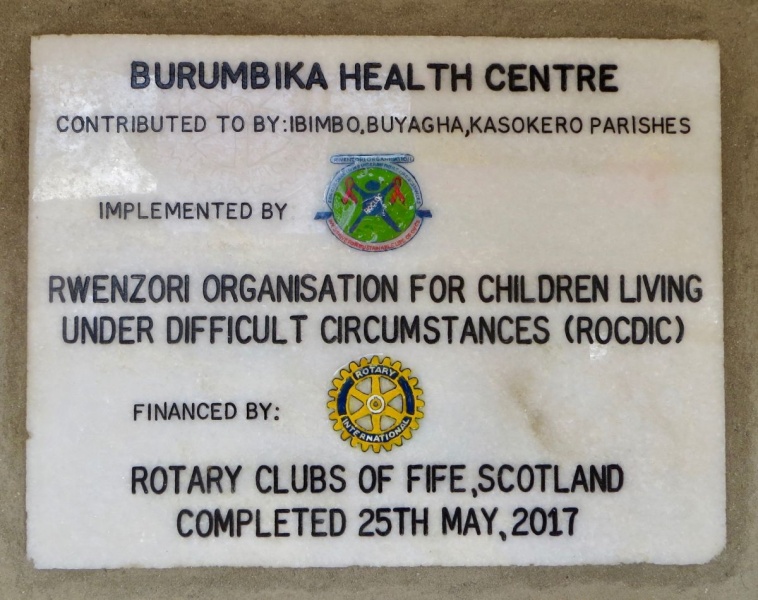 David Lyth –now president elect of the Rotary Club of Dunfermline, of which his wife, Helen, is an honorary Rotarian - spearheaded the fund-raising drive which saw six Fife Rotary clubs and Rotary Foundation finance the construction of Burumbika Health Centre in a remote market village at the centre of a scattered community of 13,000 in the foothills of the Rwenzori Mountains.
The construction was project-managed by a non-government organisation formed over 10 years ago to improve the welfare of children living in the Kasese district.
Please have a look at the videos of the development:-
Burumbika 2
Burumbika 3
;
Burumbika 4;
During his three years as a visiting surgeon from Scotland,the retired consultant urologist with NHS Fife was asked if Rotary International would help fund construction of a health centre, the supplying and staffingof which, once built, would become the responsibility of the Government.
Back in Scotland, David mobilisedsupport from six Fife clubs – Dunfermline, Dunfermline Carnegie, Cowdenbeath, Inverkeithing&Dalgety Bay, Glenrothes and Kirkcaldy – who, along with Rotary Foundation, pledged the majority of the funds needed to trigger the seven-month building project in November.
David and Helen were among the guests of honour at the completion celebrations from which they returned with a video of the VIP plaque unveiling and Government pledges to complement ongoing community contributions with medical equipment, staff and drugs.
David said, "It's a fantastic facility which can already be used for ante-natal clinics and immunisation programmes, and the chief health inspector stated that every effort would be made by the Government to start the clinic proper by September or October."
Helen explained, "To represent the hardship caused by the village's remoteness from the nearest health centre,the colourful event to celebrate the building's completion featured a dramaof a lady giving birth along a footpath when trying to reach the distant health centre."
David delivered to Dunfermline Rotarians a"big thank-you" for the support given by the club tothe medical and educational projects which he and Helen have undertaken over the past 10 years,both during and following their successive missions to Sierra Leone and Uganda.
"I think we should all take pride in the Dunfermline club's very good track record in international projects over the last 10 years," he said.
Please have a look at the videos of the development: (the quality of this text is under investigation)-
Burumbika 2
;
Burumbika 3
;;
Burumbika 4 ;
;