At a recent meeting, members of the Rotary Club of Oswestry, learned about a new food market model which has been operating for the last couple of years in nearby Llangollen. Part of a nationwide movement, but the first one in Wales, the Llangollen Food Assembly was launched in November 2015 to connect local farmers and producers with their customers.

During an informative talk, the Llangollen Assembly's founder organiser, known as the Host, Robyn Lovegood, took the audience through its workings from the online ordering system through to customer collection of their orders at The Ponsonby Arms in the town. Other venues had been suggested but the pub worked best for everyone!

"This is a fun, sociable way of shopping." Robyn said. "Our customers get the chance to meet the producers of the amazing range of food available in our area who, in turn, receive a fairer proportion of the proceeds. Only a very small percentage of the price is taken up by Food Assembly overheads; money is kept in the local economy. It's one of the main reasons I got involved with the Food Assembly in Llangollen."

The Assembly has its own page on the national Food Assembly website (thefoodassembly.com browse the online market) (where orders are placed by Monday evening each week) and Facebook and Twitter accounts giving details of special offers and news of the producers, including the chance to meet them and hear about their business fostering a connection between the two.

To demonstrate this relationship, Robyn had invited Barbara Jones, local holistic vet and owner of Babbinswood Farm and Veg Shop, to come along with her and talk about supplying vegetables for the Assembly. "I like supplying the Assembly because on a Wednesday morning we just dig up whatever is ordered by the Monday night. There's no waste and it couldn't be more fresh!" Barbara explained.

After two years, Robyn has handed over the reins of the Food Assembly to new host Olivia Redway but will stay involved on the sidelines. Members thanked Robyn for her presentation and wished her luck!

If you want to know more about the Llangollen Food assembly follow them on Twitter and Facebook or read the National Food Assembly Blog blog.foodassembly.com/


Welcome to our Assembly. Every week you'll find great products direct from quality farms. We hope to offer a range of vegetables, fruit, meat, eggs, dairy products, honey, jam and more, adding new products all the time. Come and meet the producers and and enjoy a new way to eat well while supporting local agriculture.

Why join The Food Assembly?

* Eat the most delicious and freshest food in your area. Locally sourced and more transparent, the average distance of food travelled is only 28 miles!
* No commitment to buy and joining is free. Sharing recipes and cooking tips with your neighbours is just an extra bonus.
* Our food producers are passionate about growing and making your food, that's why we pay them over 80% for their work, in comparison to 20-50% from supermarkets.
* We are about real people and real food: when you pick up your order, you get to connect with your community and food in a healthier way.
How does it work?
* Browse the online market
Your Food Assembly organiser selects the best and most delicious products for the online market.
* Place your order
Fill your basket with fresh food: vegetables, fruits, eggs, dairy products, meat, bread, honey and much more!
* On Wednesday between 18:00 and 19:30
Pick up your order at the The Ponsonby Arms, Llangollen and meet the passionate people who rear, catch, make, and bake your food.
Follow them on Facebook :)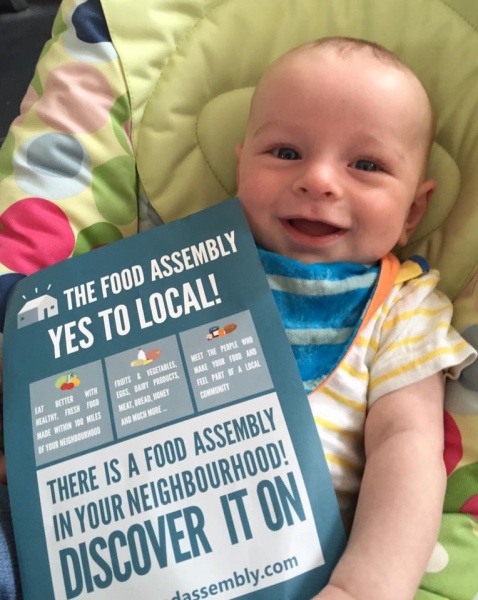 A younger Ethan promoting the Food Assembly.