Lunch - committee meetings; Cashier = Mike Wynne-Griffith
Wed 16th August 2017 at 12.45 pm - 2.00 pm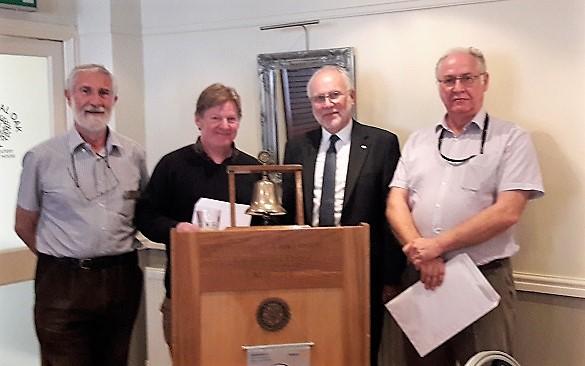 The Club was saddened to learn of the sudden and unexpected death of the Treasurer Angus Dunkley. President Bill Rowell and members curtailed the business meeting and stood in silence as a mark of respect to a much admired friend and colleague.
The meeting continued in a sombre mood with the secretary conveying condolences to the family.
President Bill Rowell inducted two new members assisted by Dr Chris Townsend membership officer.
In recent weeks the Club has welcomed guests from the Brantford Sunrise Club of Canada, and Audley Stafford.
Visits to the Osprey Centre and the Y Dolydd Workhouse at Llanfyllin had been arranged. The Club had also marshalled the Race the Train event at Welshpool and assisted with parking at the Welshpool Air show.
Members have also enjoyed a bowls night at Guilsfield.
Arrangements for the Book sale on 26 and 28th August were finalised.
The next scheduled meeting will be a poetry evening at the Royal Oak Hotel on Wednesday 23rd August.
Photo shows President Bill Rowell inducting 2 new members into the Club at the meeting on Wednesday 16th August 2017. The new Rotarians are Phil Owen (left) and Nick Rushen (right) accompanied by Membership Chair Chris Townsend.