May 2018 - Update
The first brick is laid at our school in Nepal, and we have raised more than £49,000 (out of a target of £64,000) so far!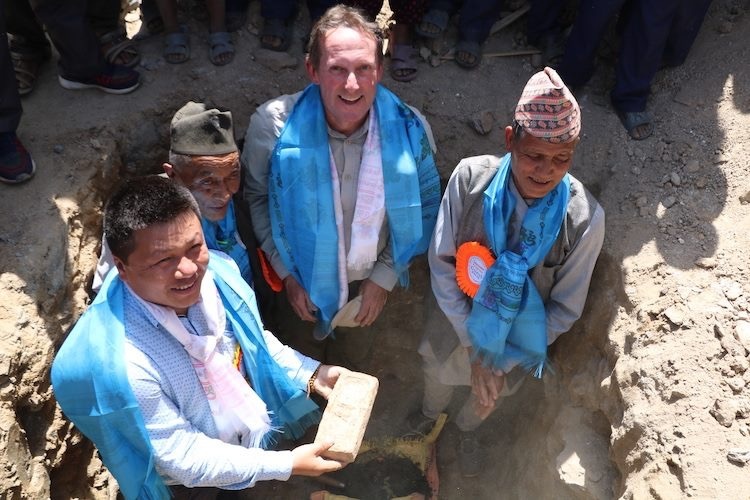 ---
Spring 2018 - Update
On behalf of the Nepal School District Project team, I would like to give you an update about our District Project to rebuild Shree Saraswoti School, destroyed in the 2015 Nepal Earthquakes.
Where are we now?
We have raised £12,951.73. That's 20% of the project total!
Exciting News:
We can start building with £18,000; we are tantalisingly close to this figure with several thousand
additional pounds already committed by clubs in our District! We really would like to start building
imminently (before the monsoon starts). We can and shall do this! Our partners, Mondo Challenge,
have also applied for a significant 'Matchfunding' grant.
What can I/Our Club do to help:
● At no cost: Encourage all your friends to 'Like' the Rotary Club of Yeovil Facebook site. We are about to launch a Crowdfunding Programme (encouraged by our District Governor, Stewart Cursley and Rotary GB&I President, Denis Spiller. A vital part of this programme is 'Social Media'.
● Ask your friends to look at the project website/video (www.hungryplanet.com)
As individuals, consider donating:
£1 to buy a brick
£10 to buy 10 bricks
As Clubs, consider raising:
£76 to buy a bundle of 8 Galvanised Corrugated Iron Sheets
£155 to sponsor a truck delivery
£360 to buy a classroom door
£1,200 to buy furniture (Desks, benches, whiteboards)
What's happening next?
I am pleased to let you know that we are continuing this project into the next Rotary year, by which
stage we plan to have completed the school! We are looking at more avenues of electronic funding.
On behalf of the project team, thank you for your support so far!
On behalf of the project team, thank you for your support so far!

Michael Fernando
President, Rotary Club of Yeovil
Assistant Governor, District 1200 (from July 2018)
TRF Cadre of Technical Advisors
Email: nepal@hungryplanet.com
---
The re-building of a school in Sinhupalchowk in Nepal is a joint project between the Rotary club of Yeovil and School in a Bag .
This school is in the area which experienced a major earthquake two years ago. The School will comprise 6 classrooms, library and toilet blok, and each child will receive a "school in a bag".
For more about this project click here to watch their YouTube Video
District 1200 is inviting clubs in our district to support this project to raise £64,000. Please check out their web site to find out how.