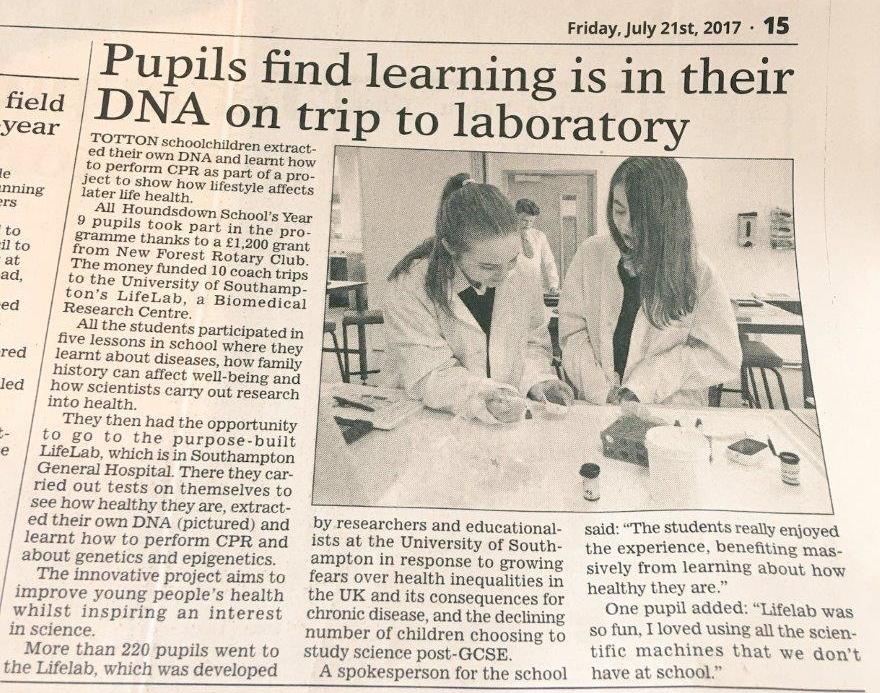 Tony Roe, our Press Officer, sent the following release to the Lymington Times. It was used in the their publication on Friday 21 July 2017 as shown above..
NEW FOREST ROTARY FUNDS STUDENTS' VISIT TO LIFELAB
Collaboration between New Forest Rotary Club and Hounsdown School has enabled the whole of year 9 -over 220 pupils aged 13 to 14- to attend LifeLab which shows how lifestyle affects health in later life.
LifeLab is part of the Biomedical Research Centre at the University of Southampton Faculties of Education and Medicine. Rotary donated £1,200 to fund ten coach trips to the facility and the Lifelab cost was funded by the school.
During the course of the school year every student in year 9 has had the privilege of taking part in Lifelab a programme run by Southampton University to educate students about Healthy Living. The students undertook 5 lessons in school learning about diseases, how family history can affect wellbeing and how scientists carry out research into health. They then had the opportunity to go to the purpose built LifeLab in Southampton General Hospital where the students carried out tests on themselves to see how healthy they are, extracted their own DNA and learnt how to perform CPR. The students really enjoyed the experience e benefitting massively from learning about how healthy they are. Here are some quotes from students:
"Lifelab was a really good experience" "Lifelab was really interesting; I learnt so much from our lessons and the trip there" "I really liked doing the experiments at Lifelab because it's not something we would get to do at school" "Lifelab was so interesting, especially the Maths guy, he was so cool" "Lifelab was so fun, I loved using all the scientific machines that we don't have at school".
This innovative project aims to improve young people's health whilst inspiring an interest in science. Developed by researchers and educationalists at the University of Southampton in response to growing fears over health inequalities in the UK and it's consequences for chronic disease, as well as concerns for the declining number of children choosing to study science post-GCSE.
The Lifelab course involves a series of stimulating lessons integrated into the secondary science curriculum. The focus is on health issues increasingly common today, particularly non-communicable diseases such as heart, lung, and liver disease, strokes and some forms of cancer. The programme introduces students to these issues and ways of making lifestyle choices for themselves to reduce the underlying risk factors.
The day visit engages pupils in exciting science projects linked to health. They use scientific equipment safely to collect health measurements, describe how scientists find out about and measure health and well-being, identify the factors that can affect our health, explain what the term 'A healthy start to life' means. They learn about ultrasound, muscle strength, body composition, DNA extraction,genetics,epigenetics and meet the scientist.
Overall the course enables students to experience for themselves some of the latest exciting developments in science with a focus on understanding how our early lives have effects on our later health. Also to learn to how they can improve their own health and the health of their future children within a framework of 'Me, my health and my children's health". It is hoped they become enthusiastic about science such that they consider further study and careers in scientific disciplines.
Further information: www.southampton.ac.uk/lifelab and http://www.rotary-ribi.org/clubs/homepage.php?ClubID=664