Our work in Youth and Environment has been recognised with the Rotary District 1080 Gold Environment Award in 2016, followed by national recognition with the Rodney Huggins Award in 2017 - this is the first time a national award has been given to Sudbury Rotary Club in its 67 year history.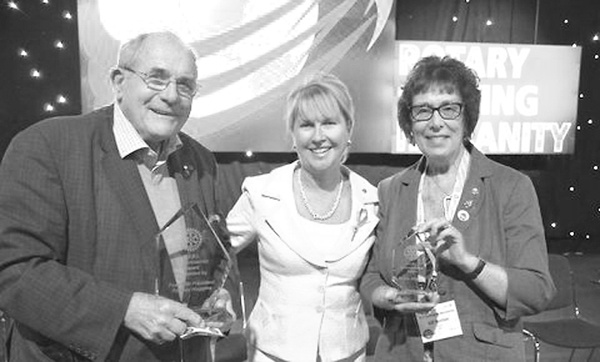 Rotary International Vice President Jennifer Jones, accompanied by Rodney Huggins, presented the trophy to Sudbury Rotary Club Past-President Gill Norton at the Rotary GB&I Conference in Manchester.
Young people and the youth of our community, the wider district and overseas have been at the forefront of our club activities and projects for many years. We realise the importance of introducing young people to their local environment and community, so that they might grow to have a better understanding and equip them to be the custodians of the future by enhancing their personal development.
The major contributors to our winning The Rodney Huggins Award were :
our schools project with various local primary schools, now in its fourth year, which takes advantage of educational projects that we have organised in partnership with nature and wildlife groups around Sudbury. Over 300 primary school children have attended educational visits to a number of local environmental and wildlife sites including Sudbury Common Lands, Suffolk Wildlife Trust, River Stour Trust, Arger Fen, Dawes Hall Nature Trust and Eden Rose Coppice Trust.
working with Eden Rose Coppice, where we organised for 100 trees to be donated by the Woodland Trust for planting along the boundary hedge of Eden Rose Coppice. This involved the help of children from the Special Needs Unit at St. Gregorys School.
using Crucial Crew to advance environmental issues. Sudbury Rotary Club has organised and co-ordinated Sudbury Crucial Crew for 19 years, during which time over 11,000 enthusiastic 9-10 year olds have attended.
working with our Foundation and International Committee, by planting 500 purple crocuses around the town and at four primary schools – Woodhall Primary, Pot Kiln Primary, Tudor Primary and Wells Hall Primary. Each school was visited and given an information pack and poster about 'Help Rotary to End Polio'.
Our commitment to all aspects of our environment and nature programme shows the importance of these projects and our desire to ensure they grow and stay a vibrant part of our club's work.