2019/20 Primary School Quiz

This years quiz was hosted by Burghead PS. New Elgin PS were winners after a close competiton and tie break with West End PS.
2018/19 Primary School Quiz
Burghead were winners and progressed to Round 2 Area Final.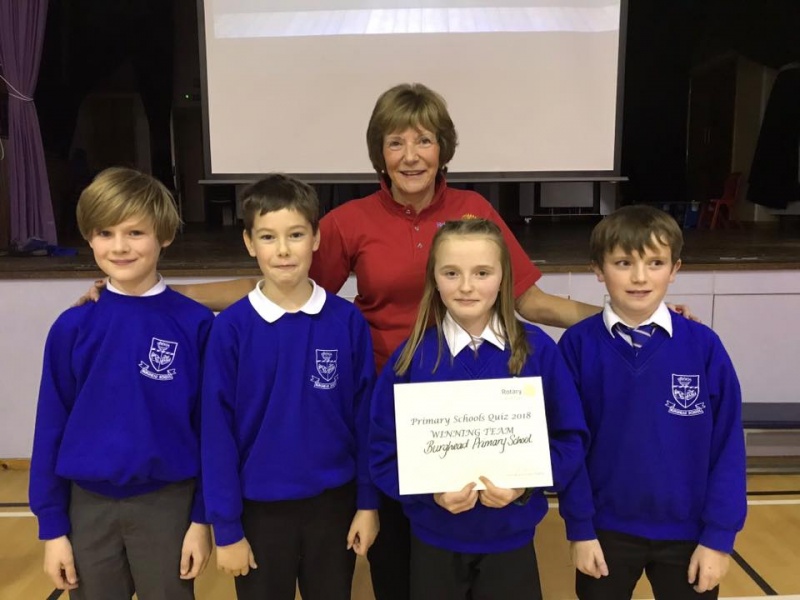 2017/18 Primary Schools Quiz
This years quiz was hosted by last year's winners East End Primary.
This year we decided to hold the competitions in an evening for the first time and this paid dividends as initially ten schools indicated that they wished to participate but, unfortunately, two had to pull out at the last minute. Nevertheless, this was the highest number of teams who have participated so far. We thought that it would be useful to invite Mrs Karen Grant and Mr Sean Duffy, who are Depute Head Teachers at Elgin Academy and Lossiemouth High School respectively, and Mr Hugh McCulloch the Head Teacher at Elgin High School, all of whom serve on the Schools Liaison Group. They were delighted to attend and received a warm welcome.
Bishopmill, Burghead, East End, Hopeman, Hythehill, New Elgin, St Gerardine and West End enjoyed a fun and competitive evening with a wide range of questions asked by Rotarian Quizmaster Lorna Williamson.
While the markers were adding up the scores District Foundation Chair, Carol Stewart, gave a fascinating short talk on the involvement of Rotary in the "End Polio Now Campaign" and the significance of the colour "Purple", which followed on from the recent press coverage, and this was well received by the young people who were genuinely interested. All of the participants received a souvenir "End Polio Now"
All the teams were well supported by teachers and family and they all did exceptionally well with the New Elgin team becoming the worthy winners.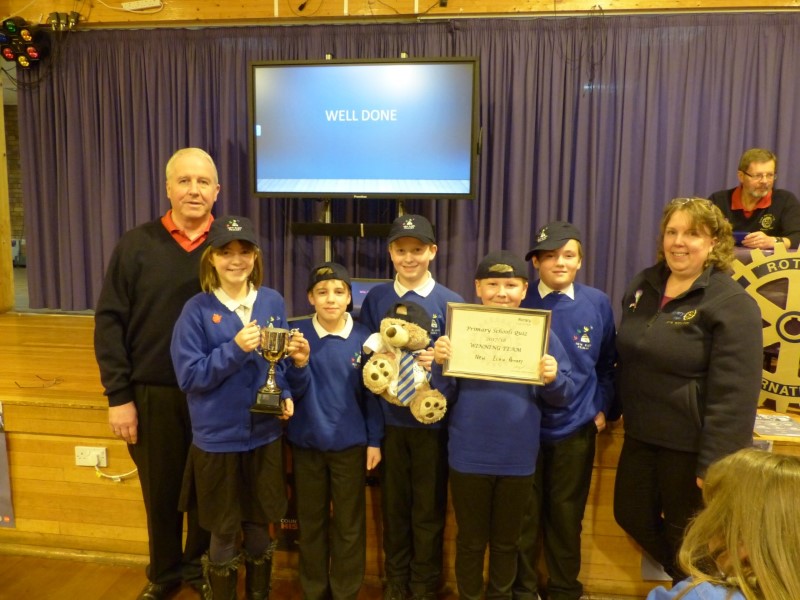 They now go on to the Area final to be organised by Elgin Rotary club in Elgin High School.
The top two teams from that area final go forward to the district final planned for June in Aberdeen where they have the chance to win a cash prize for school equipment.
Area Final Update - April 2018
Primary School Quiz Area final took place at the new Elgin High School on Wednesday 18th April. The seated auditorium was a perfect venue, with travelling support from each of the schools. Ten rounds of 6 question, topics including General Knowledge, Science, Geography and Literature.
Quote from Hugh Carter Elgin Rotary Youth Convenor
"The Area 2 Final of the Rotary Primary School Quiz Competition took place last night at Elgin High School. The seven teams participating did exceptionally well and at the end of the Quiz there only a few points separating the two winners from the other teams. It was an evening of fun for the teams and the spectators and was thoroughly enjoyed by everyone present. The winning teams were Andersons Primary School (Forres) and Central Primary School (Inverness) and they will both go through to the District Final which is being held in Aberdeen on 09 June."
Our Thanks to Hugh McCulloch and Elgin High School for hosting us.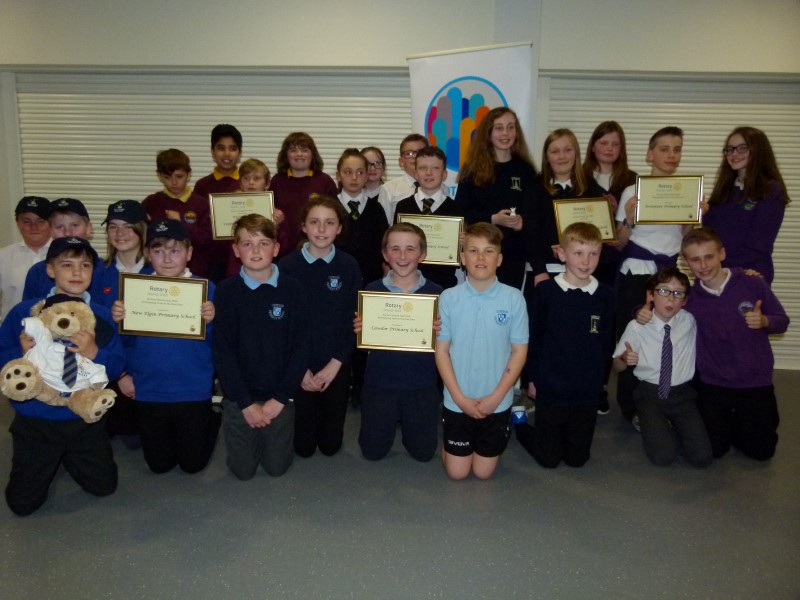 Participating Teams were:
New Elgin Primary School, sponsored by Elgin Rotary Club
Anderson's Primary School, sponsored by Forres Rotary Club
Botriphnie Primary School, sponsored by Keith Rotary Club
Cawdor Primary School, sponsored by Nairn Rotary Club
Central Primary School, sponsored by Rotary Club of Inverness
Cluny Primary School, sponsored by Buckie Rotary Club
District Final News
The Final took place in the Beach Ballroom, Aberdeen on Saturday 09 June. Sixteen teams participated in front of the biggest audience they have ever had for the Competition. The eventual winner after a tie-break was Pittencrieff Primary School, Dunfermline and Craighill Primary School, Tain was runner-up. Robert Gordon's College, Aberdeen was third.
2016/17 Primary Schools Quiz
This year Primary Schools Quiz was hosted by West End Primary School who had taken the winners title in 2015.
Primary Schools from East End, West End, Seafield and Hythehill in Lossiemouth took part and battled it out to see who would be the overall winner
The winners were East End, with team members Hector Dyce, Jon Shaughnessy, Alexander Murchie and Bethany Taggart.
All the team performed very well and showed great sportsmanship congratulating the winners.
2015/16 Primary Schools Quiz
Winners in 2015 were West End Primary School.