Salford Imagination Library
Affiliated to The Dolly Parton Imagination Library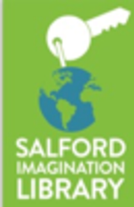 An Imagination Library is a gift from a community to its children.

"Logic will get you from A to Z; imagination will get you everywhere,"
Albert Einstein.
The Dolly Parton Imagination Library is an international project that provides young children with free, age appropriate books, each month, from birth up to the age of five. Follow this link for more information
In 1995, she started the Imagination Library in her home state of Tennessee. Dolly personally pays for all the children in Sevier County to receive a book each month.
When she was growing up, with her eleven brothers and sisters, the only book they had in their home was the Bible. Dolly enjoyed the Bible stories her mother read to her and her siblings, and we can even hear some of those stories in the songs she went on to write and sing. https://www.youtube.com/watch?v=9zLsAf6SCwY
The inspiration was Dolly's father, Robert Lee Parton, who, as a child, never had the opportunity to learn to read or write. She always wondered what her father could have become if he had had the opportunity of an education. This made her determined to ensure that all the children in Sevier could develop a love of reading.
The Dollywood Foundation provides the infrastructure for books to be purchased, and for the worldwide distribution network. Local community champions establish the libraries and raise funds for the purchase and postage of the books.
It costs £25 per year, for each child, registered in the library, to receive 12 books, addressed to them, at their home.
There are currently 3 Imagination Libraries in Greater Manchester.

Salford, Starting Life Well service started the first Imagination Library for all Looked After Children, from birth to 5 years, in Salford.

In addition, Salford currently has one school registering children for an Imagination Library. This is for children living in the Duchy Estate, who either attend Summerville Primary School, M6 7HB, or who have older siblings attending the school. It currently provides books for up to 90 members of the library.
A second Imagination Library will be opening in autumn 2017 at Lark Hill Community Primary School, M5 4BJ. This library is for children who either, attend Lark Hill School, or have older siblings who attend the school. More than 170 children will be eligible to register with this library.
At Summerville School, with money donated by Worsley Rotary Dragons' Den, Salford Imagination Library have run two Storytellers courses for parents and carers, who want to make their storytelling fascinating and interesting.
Here are some quotes from parents who have completed the course:
· "It's helped me to learn how to read with my daughter, not just to her."
· "I'm more engaged in what my child has to say, rather than me just reading
and my child listening."
· "I now allow my child to lead the story, I'm less concerned with having
to read all the words. We read more imaginatively."
· " I have passed on what I've learnt to my friends and family."
· "I'm more descriptive and I find it easier to ask open questions.
Before I used to ask a lot of closed questions."
· " We are now talking more and book reading is exciting. My child feels
confident in expressing his thoughts and feelings about the book.
I can feel his imagination growing!"
· "The course has helped me a lot. I find I can look at the pictures and use
open questions. I am 'reading in' a lot more detail. She is extending her
vocabulary and asks more questions."
· " I immensely enjoyed the sessions. There are lots of good tips and
advice."
· " Since I did the course I have lots more confidence and ideas when
reading to my daughter. We both enjoy story time a lot more!"
· " My son has new vocabulary, he has more confidence and concentration
– he asks me lots more questions!"
Salford Imagination Library Storyteller Coaches are currently training
Lark Hill Community Volunteers to become Storyteller Coaches. The Lark Hill Storyteller Coaches will then be able to offer the same course parents received at Summerville School.
Dolly Parton, like Albert Einstein, believes imagination will help you fulfil your potential, and she knows that books provide inspiration for that imagination.
The Salford Imagination Library Champion is Audrey Othick, a Worsley Rotarian, who, along with a group of dedicated and inspirational volunteers, raises money, awareness and delivers the Storyteller courses.
Click on the photo for:
Salford Imagination Library- Fundraising Photo Diary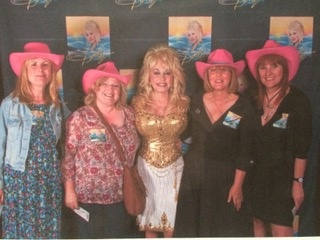 Salford Imagination Library- Storytellers Photo Diary



Some Interesting and useful links:

Imagination Library UK web site
Sevier County, Tennessee, Dolly's Home State
Dolly Parton gets Eccles Cakes in June 2014
https://www.youtube.com/playlist?list=PLzSkd2YQ-C3OPsQEUh0LdVM7l