Rotary Youth Leadership Awards (RYLA) 2017
This photograph was taken at the Grafham Water Activity Centre at the start of the RYLA course - from the left: Mark Walker - President of the Rotary Club of King's Lynn; Ben Gore - Candidate; Natham Leville - Candidate; Pip Rippengill - Vice President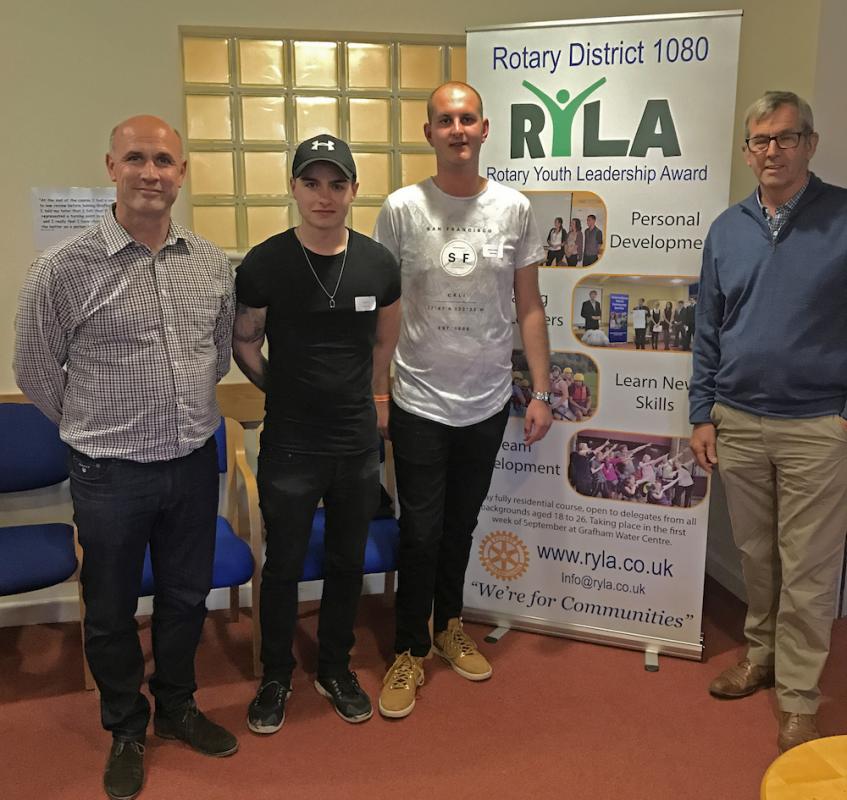 Each year, The Rotary Club of King's Lynn sponsors one or more young people to attend a week long RYLA course held at the Graffham Water Centre and this year much travelled social student, Ben Gore and local Golf Club bar manager, Natham Leville acceped the challenge, and what a challenge it is.

The programme is designed to be challenging physically, mentally and socially, frequently pushing the candidates to limits they never thought they could achieve, the purpose of which is to develop their confidence, self esteem and social abilities.

On the last day, the big test is for each candidate to give a presentation to their piers and visiting Rotarians. The candidates are split up into groups and decide amongst themselves the order in which they will give their presentation on topics of their own choice.

Topics varied from their choice of study, their objectives for the future, their interests, which included travel and tall ship sailing, their passion for a hobby and their ambitions. All of these presentations were of the highest standard and the majority of the candidates admitted that prior to attending RYLA, they would never have had the confidence to speak before a room full of strangers to make a presentation, many backed by a well produced Power Point projection.

In each case, the King's Lynn candidates will attend the Club to report on their experience.

===============================================================================
What RYLA is all about:


Rotary Youth Leadership Awards (RYLA) is a leadership program coordinated by Rotary Clubs around the globe. Each year, thousands of young people participate in this program. Young people ages 13–30 are sponsored by Rotary Clubs to attend the event run by the club's district committee. Participants are chosen for their leadership potential. Rotary Clubs and the Rotary District cover all expenses for the participants. The format of the event vary from district to district, but commonly take the form of a seminar, camp, or workshop to discuss leadership skills and to learn those skills through practice. Rotary clubs and districts select participants and facilitate the event's curriculum.
RYLA aims to:
Demonstrate Rotary's respect and concern for youth;
Provide an effective training experience for selected youth and potential leaders;
Encourage leadership of youth by youth;
Recognise publicly young people who are rendering service to their communities.
Every RYLA program covers the following core topics:[1]
Fundamentals of leadership
Ethics of positive leadership
Importance of communication skills in effective leadership
Problem-solving and conflict management
Rotary's purpose and service to the community
Building self-confidence and self-esteem
Elements of community and global citizenship
For more information on RYLA follow the link http://RYLA.co.uk