Caring at Christmas Collections 2019
Presentation of Cheques by President Margaret Stenton and George West Community Convenor 2019/20
Rotary Elgin Caring at Christmas collection campaign began in late November and included Santa on his Sleigh at Asda and Bag packing at Tesco, Marks & Spencer and collections and on the Plainstones and in St Giles Centre this year.

In total £6,780 was raised with cheques of £1,680 to each of the following charities being awarded to date:

· Moray Wellness Centre

· Alzheimer's Scotland (Moray)

· Scottish Association for Mental Health

Rotaract Moray, which supports the campaign every year, organised a Soup and Sweet event at St Giles which was well attended and the Christmas fayre was delicious and warming. Members Peter Mutch, Angus Lawson, Ryan Anderson and Gregor Lawson presented Rotary Elgin with a Cheque for £1,500 to add to their CAC Fund for 2019.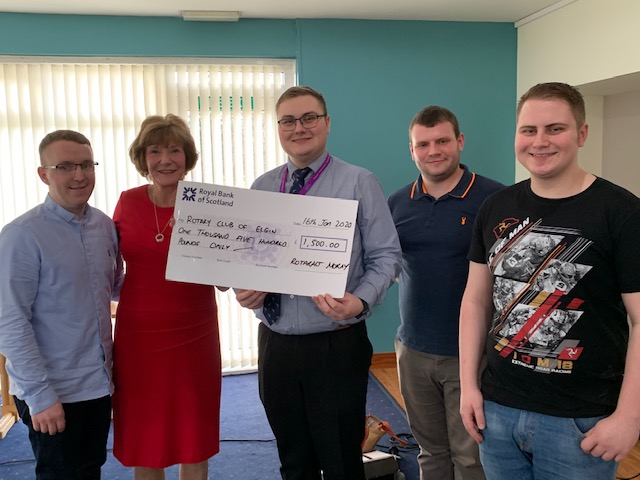 Rotary Elgin wish to thank the local stores and the community of Moray for their generous and ongoing support. Together, we have made a difference.
Special thanks to Asda, Tesco, Marks & Spencer and St Giles Centre for their support and hospitality during the season.
Rotary Making a Difference
in the Community