Rochford Rotary Club's International service Chairman Graham Abel holds two of the 34 backpacks being sent to the charity Mary's Meals.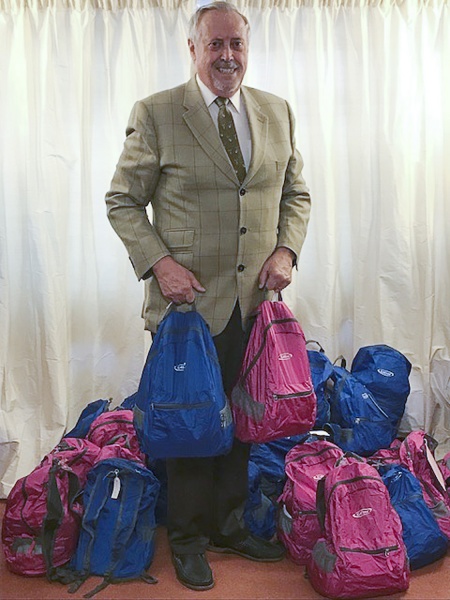 Mary's Meals supplies over 1.2 million school meals each day to children in several counties in Africa, to encourage them to attend school regularly. They also provide backpacks of 'goodies' to be used at school, which are donated by various organisations such as Rotary Clubs.
Each of the 34 members offered to fill a backpack with the items specified by Mary's Meals, i.e. a notepad, pens, pencils, coloured pencils, eraser, ruler, sharpener, and pencil case. Plus a small towel, shorts, shirt, and flip-flops, together with soap, toothbrush, toothpaste, small ball and a spoon. There were 17 blue backpacks for boys and 17 pink for girls, with each backpack put together and labelled for a child aged between 4 and 12 years old.
We are sure they will be excitedly received and used by children, whose schools cannot provide basic equipment for their valued education.
If you have any questions about this or any other of Rochford Rotary Club's projects call Glyn Jarvis 01702 299915 or Paul Veitch 01702 473218