Special speaker Meeting
Mon 12th February 2018 at 12.30 -
A presentation on the prevention of Cyber Crime by DC Matt Hull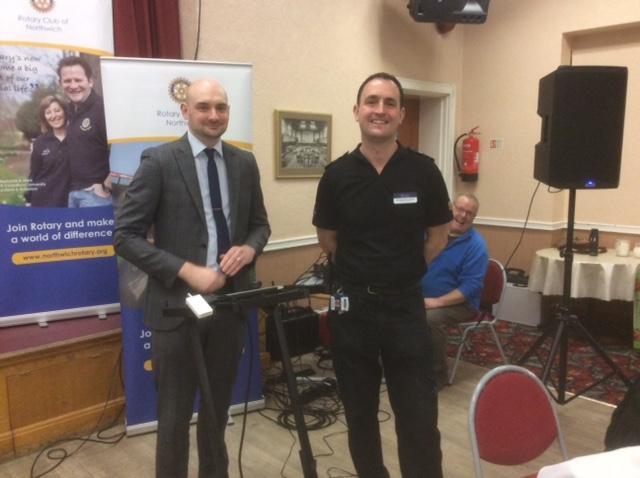 Making a return visit to the Rotary Club, the Chief Inspector discussed issues around spikes in inquisitive crime and ongoing scams relating to iTunes vouchers, where the scammers state that unpaid tax bills can be settled using the vouchers! which are then traded on the dark web. "Do not be taken in".
Simon then introduced Matt Hull from the e-forensics team at Cheshire Constabulary.
Matt, a detective constable with Cheshire Police, has become one of the Constabularies experts on Cyber crime, which he emphasised is "just crime but in our modern world".
In a highly informative presentation, which was both alarming yet helpful Matt explained the threats we face and the straightforward steps we can take to protect ourselves.
We learnt that;
•
more people own a mobile device than a toothbrush,
•
1 in 4 businesses have experienced cyber breaches/attacks in the last year,
•
the highest proportion of
cases of
medical depression in the youn
g can be linked to social media,
•
there
has been a dramatic increase in social media blackmail cases.
Common threats include;
•
Ransomwear
; that locks files and folders and demands payment to release them – NEVER PAY. The only answer is to make regular back up files kept securely away from the main system
(note; unplug back-up systems from the main system to avoid them being corrupted if you're attacked)
.
•
Website swamping (
DDos
);
Where
deliberate effort is made to overload a website.
•
Phishing/
Smishing
/Vishing; attempted data theft by email/text/telephone call. "Hover over the address to see the real address beneath", and be aware that no legitimate organisation uses click on links for sensitive data.
•
Social media data theft;
"don't add sensitive data to social media accounts"
Matt went on to explain that 80% of threats can be prevented using simple protection measures.
•
Install
and maintain
Security Software on all devices, including phones.
•
Use strong passwords. Use a dif
ferent one for each application, and change the password on your router.
They should be 14 mixed characters (upper/lower/number/symbol) based on a set of randomly selected words to which a personal code is applied. The random set of
words is constant, but adjusted according to the code – so is memorable.
Never use auto-fill unless you use it through a password handling system such as Norton Identity Safe. Be aware that "in the internet of things every device has a password – which are generic and need to be changed because if a criminal can connect to one they can connect to all your devices"
•
Manage your digital footprint. Set security levels and limit what you put out there.
•
Keep applications and your web browser up to date.
Matt recommended that the audience should visit Get Safe Online for more detailed guidance
https://www.getsafeonline.org/
Incidents should be reported to the National Reporting Centre at Action Fraud;
https://actionfraud.police.uk/
We have been warned, but are now well informed to reduce the risks.