Lunch Meeting - Presentations
Tue 27th February 2018 at 12.30 - 14.00
Today we presented a Paul Harris Fellowship to John Herring as well as distributing funds to two local charities raised at our Sporting Lunch.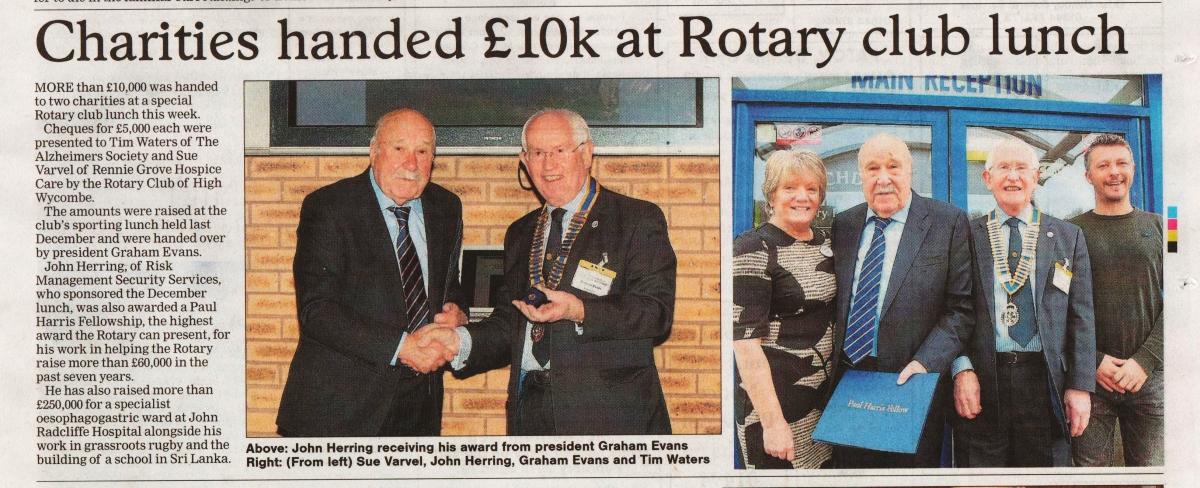 A Paul Harris Fellowship is one of highest honours within Rotary International. It is given to people to recognise an outstanding commitment to the Club or the community, and is thus not restricted to members. We were delighted to recognise John Herring at the same time as we presented cheques to the two charities to benefit from our 2017 Sporting Lunch, of which John has been a generous sponsor for many years. Coverage of both the Sporting Lunch and today's award were pictured in the Bucks Free Press.
David Sumpter introduced John and recognised his commitment to the community as follows :-

"John Herring has sponsored our Sporting Lunch for the past 7 years allowing us to raise over £60,000 in that time. John is not only a great friend of Rotary but also supports many other causes and his generosity is legendary.
He has financially supported Junior Rugby in Bucks allowing many young men and women to achieve their dreams at County and International level. Also, not unsurprisingly, he has supported grass roots rugby in Wales, in particular at his local club Llandovery.
He finds it difficult to say no and when he became a patient at the Churchill hospital in Oxford he repaid their kindness by organising and sponsoring events to raise funds for the OESOPHAGOGASTRIC Centre.
To date he has been personally responsible for raising just under £250,000, thus enabling the Churchill to build a state of the art computerised operating theatre. An unbelievable benefit to many patients suffering from oesphagal or gastric cancer."

John, there are countless people less fortunate than ourselves that you have helped via Rotary.
With your help we have supported
Shelterbox
Aqua Box
Building a new school in Sri Lanka
South Bucks Hospice
Skidz
Helen and Douglas Home
Child Bereavement UK
as well as our 2 charities here today The Alzheimers Society and Rennie Grove Hospice,
and many many more that we do not know about.