Dragons Den 2018 - Rainhill Recreation Club
Thu 19th April 2018 at 7.15 pm - 10.30 pm
Dragons Den 2018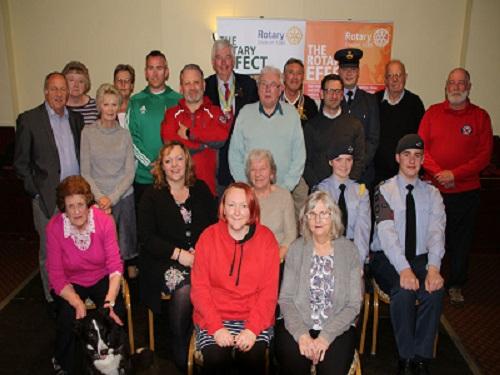 Dragons Den Meeting at Rainhill Recreation Club

Start - 7:15pm
Apologies in the usual manner
_________________________________________________________________

Apllications for the Rainhill Rotary Dragon's Den 2018 are now being accepted.

The date of the event is the 19th April 2018 and will be held at Rainhill Recreation Club starting at 7:30pm

Click here to view the Application Form for the 2018 event.

Rainhill Rotary raises around £30,000 a year through its annual Beer Festival, Christmas street collections with Santa and his sleigh and other fund raising initiatives in the Rainhill, St Helens and Billinge areas and once again, we have decided to invite organisations to put forward their case for receiving funding from the Club up to a maximum of £500.
Local charities and other worthy causes are once more being given the opportunity to bid for cash donations of up to £500 from the Rotary Club of Rainhill.
Last year, cheques amounting to almost £15,600 were presented to successful bidders for funds from the Club's Dragon's Den initiative.

Most of the cash was distributed within the local community to recipients including;

The Honeyrose Foundation, St Helens

MALS Merseyside

St Helens Sea Cadets

Rainhill Cricket Club

Rainhill Swimming Club

The Hope Centre

Chain Lane Community Centre
Prescot Festival

Cheshire Search & Rescue

Portico Vines Panthers A.R.L.F.C

The route to securing the support of the Rotary Club of Rainhill starts with the completion of a short, simple application form obtained from the Club's website.

The Application Form should be completed and returned by the closing date of 8th March 2018.

Each application will be considered by a committee before selected bids are invited to make a brief presentation to an assessment panel.

The successful applicants will be informed soon after 10th April 2018. Cheques will be presented at the Club's meeting on Thursday, 19th April 2018 where we would ask successful applicants to give a brief talk about their organisation and how they intend on using the award.

Click here to open the Application Form which should be completed and emailed to:

Russ Owens at rainhilldragonsden18@gmail.com.
All Application forms should be submitted via this email address.
You can also contact Monte Worthington on 0151 426 7200 for other methods of submitting your application.