Rotary in Pop Culture
Remember How Movies Can Help You: A) Entertain & Escape B) Re-energise & Release C) Insights, Epiphanies & AHA moments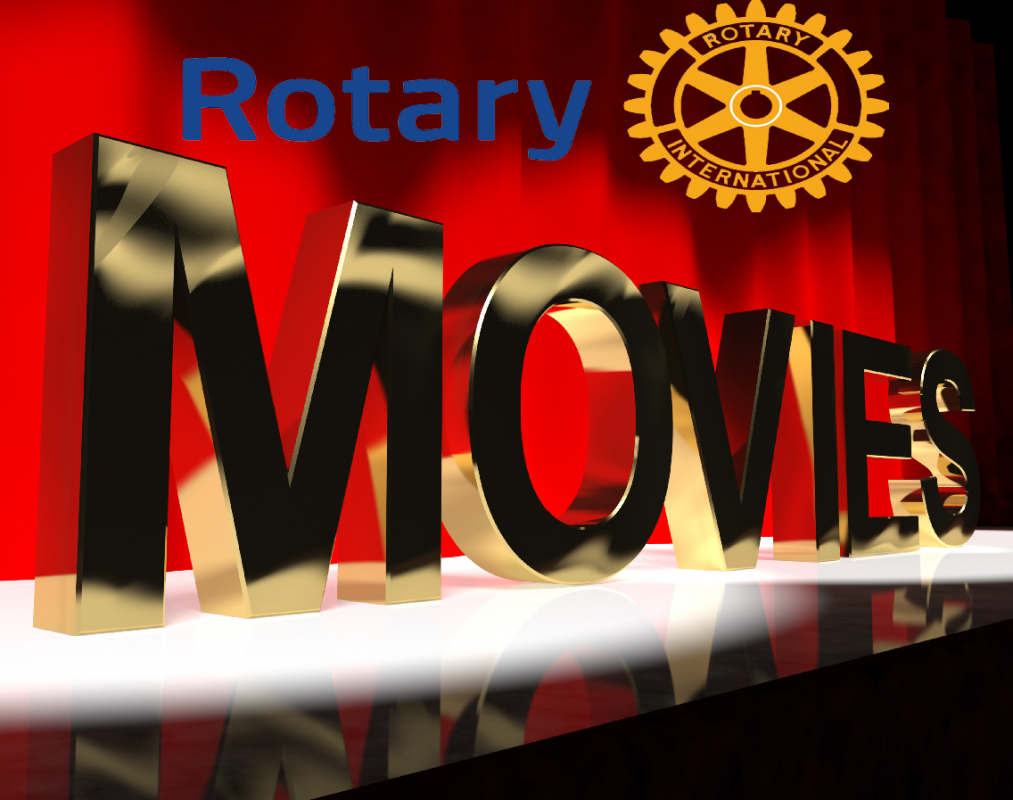 No one wants to be the only one not laughing when someone quotes a popular show! If you stay current on emerging pop culture and read up on popular stuff from years past, you'll soon be a pop culture expert or a Rotarian.
It's craic to make a list of films & TV shows which mention Rotary in them and watch them, too.
Here's a "Back to the Future" Hill Valley sign in 1955 with Rotary emblem. The first object to greet his [Marty's] eye was the large sign at the corner of the square, at 2nd & Main Streets, Welcome to Hill Valley, it read. A Nice Place to Live. Symbols for the Rotary, Future Farmers of America, etc. decorated the sign like medals on an old soldier's chest. One logo not present which is often seen on many town or city signs was the Free & Accepted Masons, which suggests there is no Masonic lodge in Hill Valley. The City-limit signs with a Rotary emblem are a favourite Hollywood device for establishing a small-town ambiance.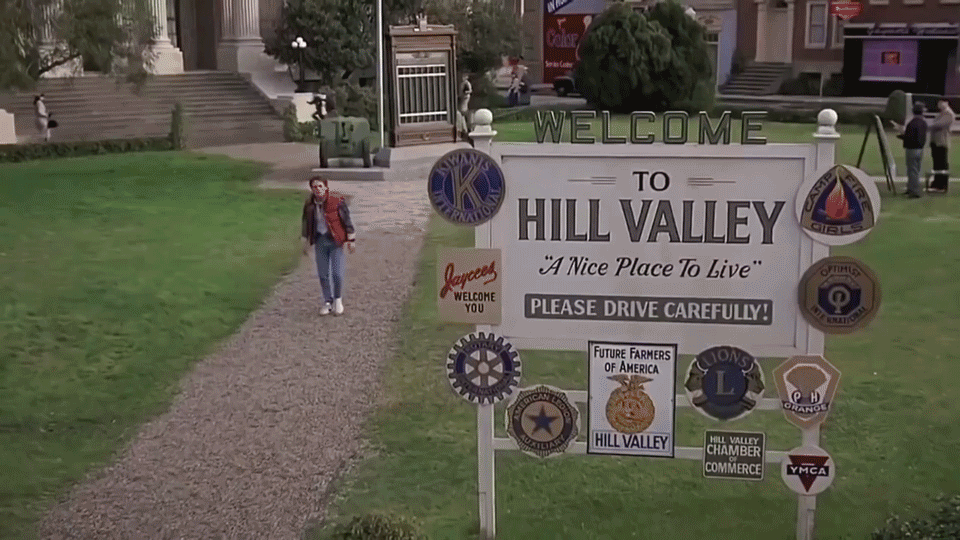 Through the decades, Rotary has been mentioned and its logo shown in media. On this page, we have collated the more interesting ones, a testimony of public awareness about the organisation and how it stands for all things true and fair.
Viewers may have noticed that Detective Chief Inspector Tom Barnaby (John Nettles) in "Midsomer Murders" often wore a Rotary lapel pin.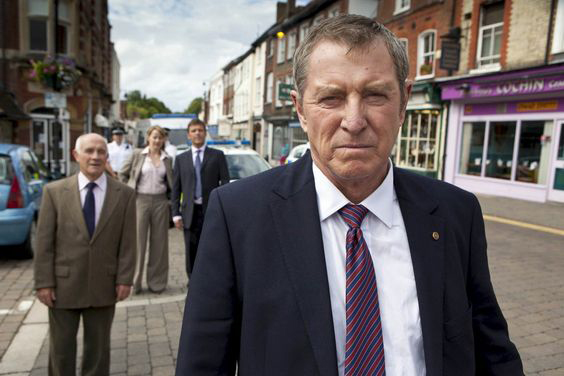 In another detective series "A Touch of Frost", Detective Inspector Frost's (David Jason) chief, Superintendent Mullet (Bruce Alexander) is often going to/ coming from a Rotary dinner meeting.
My personal favourite is the true story "CATCH ME IF YOU CAN", 2002 bio-pic/crime-caper. The film begins at the Rotary Club awards banquet in New Rochelle, New York during a real Rotary meeting where Frank Sr. (Christopher Walken) is made a lifetime honourary Rotarian as he was a WWII Medal of Honor recipient.

---
In season four episode five of the Larry David show "Curb Your Enthusiasm", titled "The 5 Wood", David is trying to gain entrance into a golf country club. In the interview David makes up lies about himself, one of which being that he is a member of the Rotary Club as well as a Moose and an Elk.
---
In season four, episode two of "The Office", branch manager Michael Scott holds one of his notorious seminars which this one focusing on ageism in the workplace. He introduces the surviving founder of the Dunder-Miffin paper company, who mentions that he met the late co-founder when they were in the Rotary Club.
In the 2009 film "Extract", Nathan (David Koechner) spends most of the movie trying to get his neighbour Joel (Jason Bateman) & Suzie (Kristen Wiig) to attend a dinner held by his local Rotary Club. ***SPOILER ALERT : In the end, both Joel & Suzie finally attend the Rotary dinner.
In the final scene of "The Bodyguard" Frank Farmer (Kevin Costner) acts as a bodyguard to a guest speaker at the fictional Rotary Club of Iowa Rapids. The Crystal Ballroom of the Los Angeles Biltmore Hotel was used for this scene. Rotary International provided the club banner which hangs on the wall and over 100 Rotary lapel pins and name badges. At the very end, Frank scans the room, a Rotary flag prominently displayed at his side:
---
A little
Rotary
humour from
the West Wing
! Sorry, Elks
A hovering "Welcome to Hill Valley" greeting sign, bearing the Rotary emblem, greets visitors in 2015 with a reminder "Please Fly Safely / Ejection Seats Save Lives" to the fictional California, USA, hometown of Michael J. Fox in the "Back to the Future" trilogy.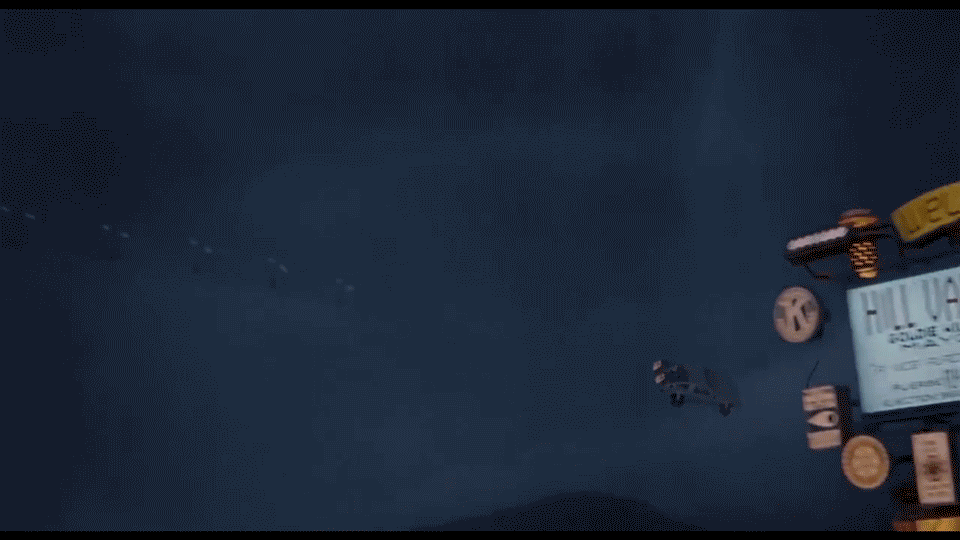 ---