Helping NCT in Southam
Members from the Rotary Club of Southam 2000 went along to the Graham Adams Centre in Southam to present a cheque in the sum of £321.95 to the Southam Branch of the National Childbirth Trust (NCT).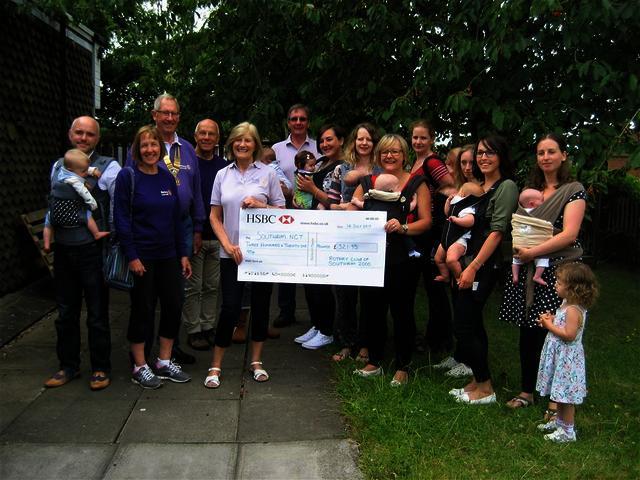 The Rotary Club had been approached for help with the purchase of new baby slings. Slings, also called baby carriers, are an incredibly helpful tool for parents of new-born babies, right through to toddlers and even pre-schoolers. Amongst other benefits, they help with bonding, reduction in crying and protection of the mother's (or father's or grandparent's) back.
Currently there is very limited access to slings in shops; meaning parents have to purchase them online, often at considerable expense, in order to try them out. As part of the NCT's ongoing support of new parents in the Southam area, they run a sling library. It is a volunteer run initiative and the women who hold the sessions are, or have been, enthusiastic sling wearing mothers. The meetings are sociable and enjoyable events, where parents, grandparents and carers can try on a range of slings and carriers whilst enjoying tea and a chat. Slings are also available to hire. The aim is to make slings accessible to all parents, and the hire charges reflect this with prices starting from £5 for a 2 week hire period.
Southam and Villages NCT Sling Library meets on the second Friday of the month in the morning between 10:30 and 12:00 at the Graham Adams Centre in Southam, alongside a "bumps and babies" group. The meeting is free to attend with an optional donation of £1 per family for refreshments.
Southam NCT Co-ordinator, Helen Everitt, said "thanks to sponsorship funding from The Rotary Club of Southam 2000 the sling library has been able to grow and offer a wider selection of slings to support more parents within the community."