Eve Mulholland - Art Gene
Wed 12th September 2018 at 18.30 - 20.00
Art Gene is a unique, independent, international research facility founded and led by artists Stuart Bastik and Maddi Nicholson, and based in Barrow-in-Furness, Cumbria.

Our speaker last night was Eve Mullholland from Art Gene, which is based in the Nan Tait Centre, that magnificent building at the corner of Bath Street and Abbey Road which was formerly the Technical School. Eve is an ecologist and is employed by Art Gene as Landscape Engagement Coordinator and is also part of the Coastal Team.

Art Gene was founded by artists Stuart Bastik and Maddi Nicholson in 2002 and they were the catalyst for the restoration of the "Old Tech" into an Art Centre, rescuing an old building from oblivion.
Currently Art Gene's motto is "Re-visioning the Social Natural and Built Environment" they aim to improve the street-scape of our locality, to green it and to encourage we who live in it to also appreciate it's beauty.
Eve told us that Barrow comes top of all 325 English boroughs for the quality of its landscapes and the number of its nature reserves in a survey by the Royal Society of Arts. But, there is always a but, ranks 162nd for how its communities use their landscape. Art Gene intend to correct this !
How ? By undertaking art based environmental projects in the area. For example, on Mill Lane, Walney they have their "Allotment Soup" project. They were given a plot of derelict land by the Town Council. It was a terrible mess, all overgrown with brambles. It took a lot of back breaking toil to transform it into a useable space. Now populated with raised beds, communal and individual, growing all sorts of stuff. The produce is frequently used in huge vegetable stir fries they have to feed their volunteers ! Eve said that free food was a corner stone of any activity they undertake.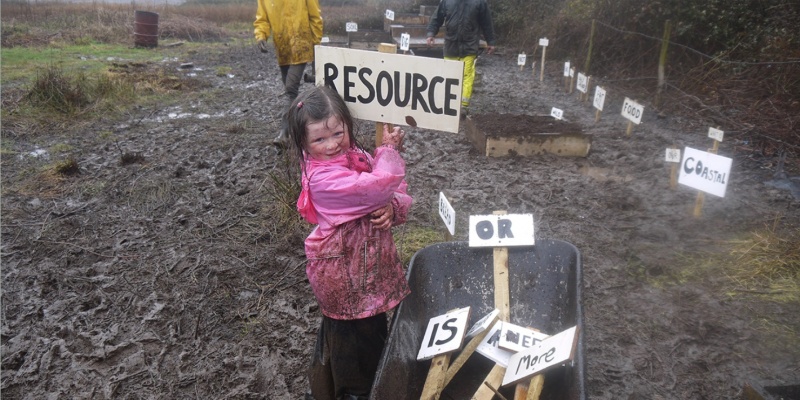 Currently they are on a massive digging project at one end of the site. Their aim is to create a pond, to have a wetland area and make a home for wild life.
The site is not only used for growing things. Recently they had a "Barra Nights" event, the participants were encouraged to bring their tents to camp for the night. They started by picking blackberries and had jam making workshops. They had an outdoor film show, an early one for the kiddies and one later for the grown ups. Eve also conducted Bat Walks a couple of Bat walks as it grew dark. Finally they had a bonfire and toasted marshmallows. She said one family were so enthralled they stayed up until 3 am, not something Eve had planned for, she turned into her tent absolutely exhausted.

Other projects at Art Gene have involved their Artist in Residence, recently they held workshops with Hindpool and Ormsgill communities over several weekends designing and building bird boxes which emulated houses in their part of town.
Also they had a BIG FIELD study where they checked and catalogued the wild life in an area. Birds, animals insects, the lot.
Finally Eve invited questions and was flooded with queries, how was Art gene funded, what were its origins, how many are employed, lots of questions which were all ably answered.
But time was up for an enthusiastic speaker and we all learnt a lot, Rotarian Frank Faulkner gave the Vote of Thanks.