Meg Fletcher - founder of the Kinamba Project
Wed 5th December 2018 at 18.30 - 20.00
The genocide of 1994 had a devastating effect on the lives and futures of a large proportion of the Kinamba community in Rwanda. This project offers hope to war widows, genocide orphans, and marginalised and vulnerable people.
Meg Fletcher visited us again and updated us on the project at Kinamba she has been running for over 10 years.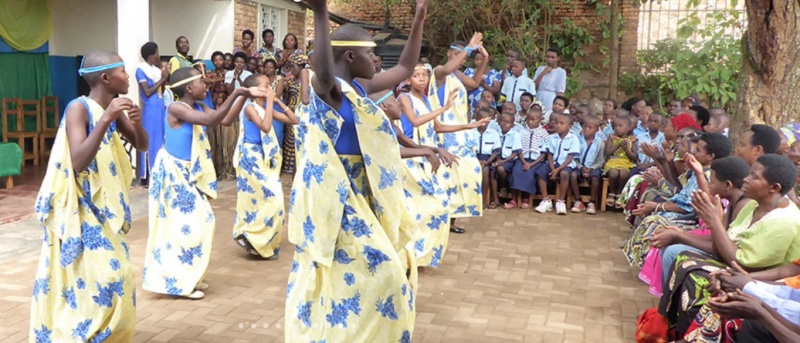 It has grown incredibly during that time, developing from a school and feeding program to now encompass even Adult Literacy. During the horrific period in 1994, education was disrupted completely, consequently many adults are illiterate, but thankfully many are willing to rectify the situation. Quoting the Kinamba Project website, "To date we have held 4 classes lasting for 9 months each for mainly women students. The classes are in huge demand. 87 local people can now read and write at a basic level. We are now registered in the national programme for Literacy and we have received course books from the Ministry of Education".
Meg told us that at the end of last year they celebrated their 10th birthday and closed their local organisation and registered as an international venture.

Showing us a picture of many children dancing, she said they were celebrating "Primary day", it was a very important date and very popular with he children as it was the only time of year, they got to eat meat! She told us that the children do love to dance and that they are traditional dances. The troupe are very popular and are frequently asked to perform at weddings and once a year also at the International School.
Meg and her team seek not only to educate the children, but also to enrich their lives by introducing them to art, music and sport and to encourage them to also express themselves. So many are educated by rote and by tradition do what they are told to do, not what they want to do. Meg encourages them to think and express themselves, constantly asking them what do you think? what do you want to do?
She told us that thanks to volunteers they had introduced rugby to the school, they had a vibrant drumming group, traditionally drumming was exclusively male, but that has changed, and they had a very skilled female drumming tutor for their group. Also, thanks to an international initiative cricket has also been introduced into the curriculum.

She told us about some of their older students who are continuing their education elsewhere. Boarding schools are very popular, although the students live in cramped dormitories, they have regular food and light. If they continued their education and lived with their parents, they would have no illumination during the hours of darkness, no ability to continue to study.
Interestingly Meg told us that several of the students would stay late at the school, congregating on the veranda (in the light) where they can continue to study if they wish or just talk to Meg about all sorts late into the night.
Some of the older students are at university, one we hope will be visiting us soon is studying in nearby Uganda, speaks very good English and frequently helps volunteering at the centre with the younger kids.
Unfortunately, the centre is on land which Kigali City have scheduled as a commercial or industrial zone so its days are numbered. For some time she has been looking at alternative sites and has found a suitable area of land which will not only enable them to continue their good work but also give them scope for the future.
She told us that her initial plan would consist of two classrooms 7m x 7m, a toilet block, an office area, a meeting area, with covered walkways between everything 9it rains a lot in Rwanda). It would be a one stop shop with some medical facility and they would also be training "Outreach Workers" who would be able to go out into the more remote villages and provide some of the services the project does in the centre.
She would be very grateful if we are able to help her with this ambitious move, which in view of the planning zone issue is essential if they are to continue with their great work.
Peter Gardner gave the vote of thanks.