Gordon Turner - fascinating facts.
Wed 6th March 2019 at 18.30 - 20.00
Immediate Past President Gordon Turner treated us an entertaining talk on fascinating facts. Click to find out more.
THE title of Michael Caine's recent autobiography - Blowing The Bloody Doors Off - was a line from one of his most famous films, The Italian Job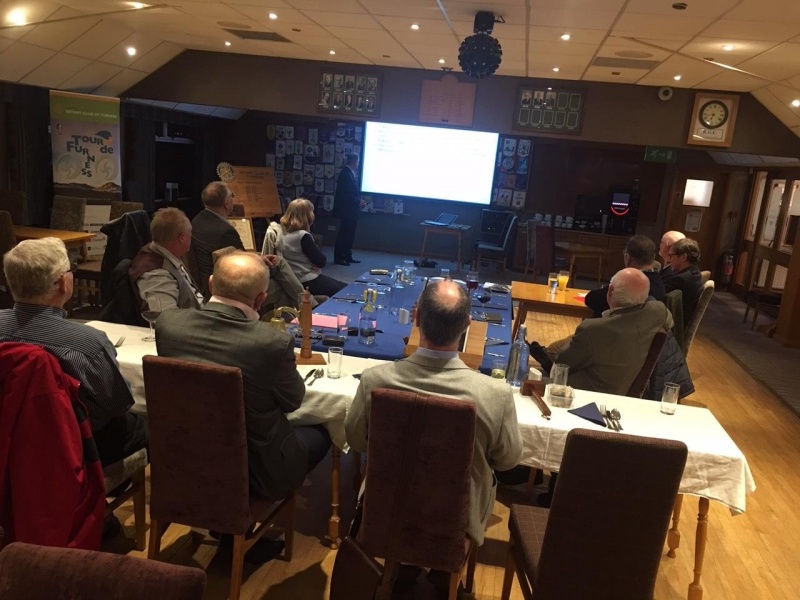 But it could just as easily have been entitled Not Alot of People Know That such was his love of quoting trivial facts from The Guinness Book of Records.
Well the Rotary Club of Furness boast their own answer to the Cockney actor in the form of Immediate Past President Gordon Turner. And on Wednesday he treated a small but select band of 13 to an entertaining talk on Fascinating Facts.
There were many and varied facts with audience participation adding an extra quiz element to proceedings. Did you know that Colchester was the Roman capital of England before London? That Papua New Guinea was the most overweight population in the world: that Afghanistan the largest producer of narcotics; the United States incarcerates 2.2 million people, a quarter of the world's total; and that Britain's newest cathedral built in Liverpool in 1978 is also the biggest.
Gordon stumped fellow Rotarians with the richest family in the world being The Waltons, of Wal-Mart fame. Also that a Librocubicularist is someone who reads in bed. New York is home to 800 languages and that the price of a slice of pizza has equalled the cost of a subway ride for the last 50 years.
You will have been on earth for a billion seconds between your 31st and 32nd birthday while Google and You Tube are now measured in billions of hits and searches.
There was one final fascinating fact for Gordon when he drew his own winning number in the Foundation draw!
A vote of thanks was given by Speaker host Brian Pugh.
Reported by Rotarian Graham Dixon