Join the Fun! Thrill the spectators! Build your own soapbox! Apply for an Entry Pack to the 2019 Rotary Club of Billericay Soapbox Derby.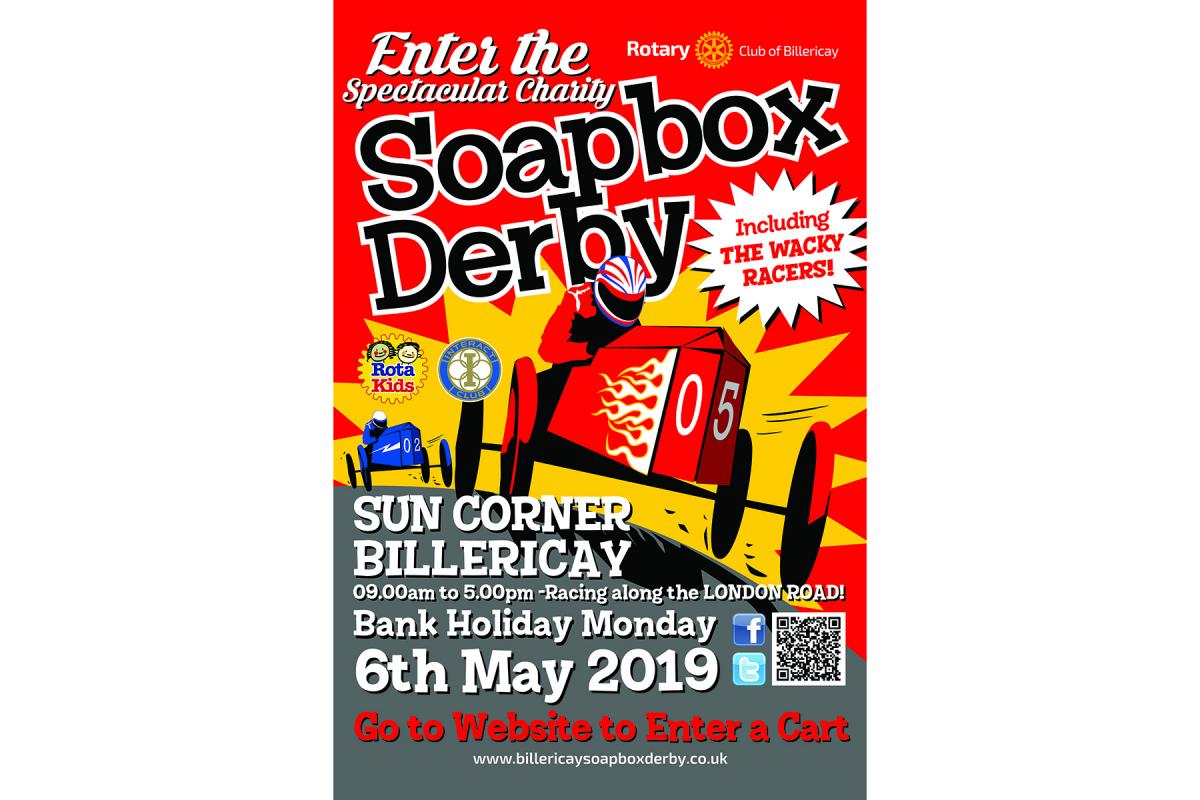 Rotary Club of Billericay
2019 Soapbox Derby
Application for an Entry Pack
The Rotary Club of Billericay Soapbox Derbies in 2016, 2017 and 2018 were highly successful, raising over £90,000 for charity. Thousands of people had a great time.
As we provide more facilities at the event our costs continue to increase (2018 nearly 20% higher than 2017) so we are having to review Entry Fee pricing.
Advance Entry
The Entry Fee is a low £60 (non-refundable) per soapbox including any postage and packing.
As in all previous years, the expectation is that every team will raise at least £100 in sponsorship for charities supported by Rotary.
If you would like to ENTER the next Soapbox Derby on May 6, 2019, then please click on the button below to go to a page where you can leave your details and an Entry Pack will be emailed to you.


If you have any query whatsoever, please contact us by clicking on the "Contact Us" button below,

or by telephoning Mike Sinclair on 07836 207888,
or write to him at:
Buttsbury Lodge, Stock Road, Stock, Essex, CM4 9PJ.
100% of ALL Profits raised will go to Local and International Charities supported by Rotary including:

International: Médecins Sans Frontières (Doctors without Borders), Rotary's End Polio Now, Ciamanda Primary School, Kenya

Local: Little Havens Children's Hospice, Essex & Herts Air Ambulance, Local Schools


Privacy and Confidentiality
Rotary Club of Billericay promise to respect the confidentiality of any personal data you share with us, when you enter a soapbox or buy tickets to the Rotary Club of Billericay Soapbox Derby, including information that we have access to through the third party purchase processes.

We will only use this information to ensure the success and the effective operation of the Soapbox Derby, during the preparation of which,we regularly send information to you about the forthcoming event including, but not limited to, our Soapbox Newsletters. This information contains vital facts about the event which we need to share with you. For this purpose we maintain a mailing list comprising your names and email addresses, and if you are a competitor, your telephone number(s) and postal address. We take your privacy very seriously and our "Privacy Policy" is published on our website and accessible directly from our Home Page at
www.billericayrotary.org
using the Privacy Policy and Accessibility link at the foot of that page.
Once the event is over and all activities related to it have been completed, we will delete all such information except that necessary to allow us to inform you when the next event will take place, and relevant information about it, so that you have the opportunity to enter or help us again.