Sponsor A Soapbox
Contribute to our charities! Get personally involved with one of our teams! Why not show your support by sponsoring a Soapbox Team?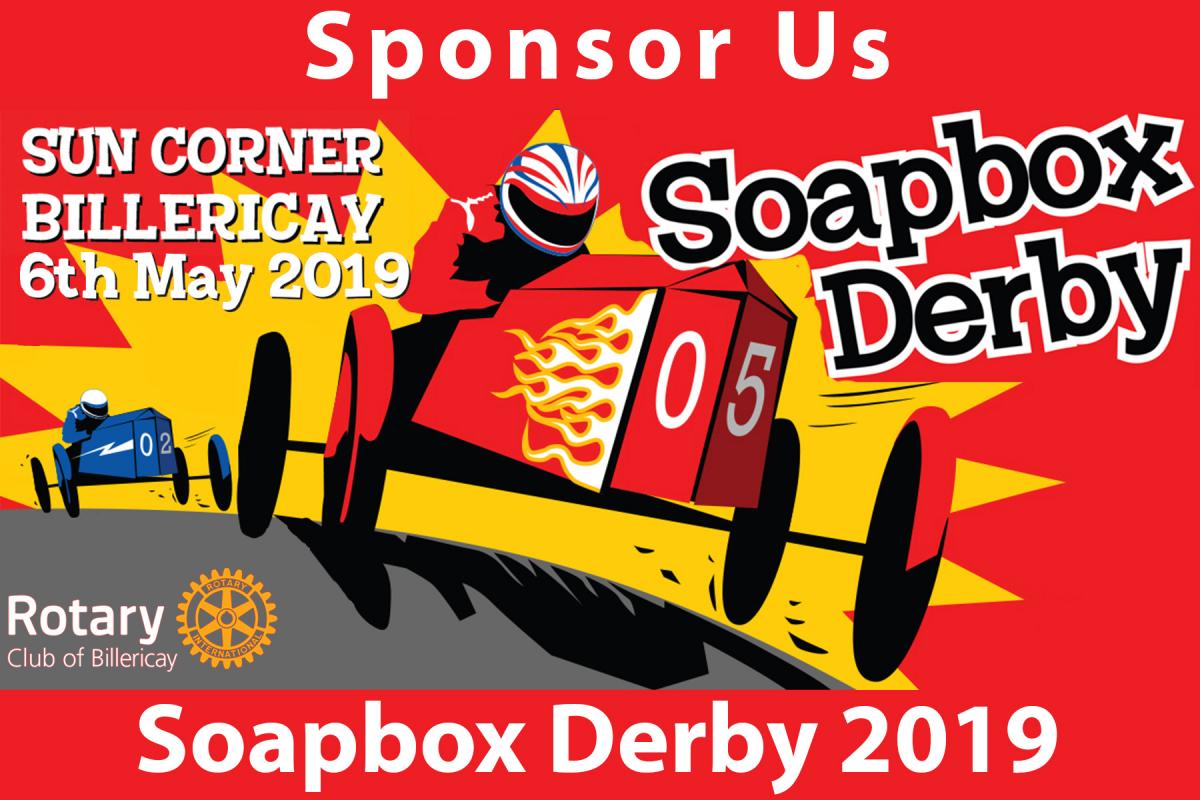 Support your Favourite Team

Get Involved! Take a personal interest! Sponsor one of the Soapbox Teams!
Are you Interested in the Soapbox Derby? Want to take part but can't be a team member? Or just want to support us and help make the charitable donations as large as possible?

Every team has to raise at least £100 in sponsorship for the Soapbox Derby charities so you can help them and us by Sponsoring a team using our simple sponsorship process.

100% of ALL Profits raised will go to Local and International Charities supported by Rotary including:

International: Médecins Sans Frontières (Doctors without Borders), Rotary's End Polio Now, Ciamanda Primary School, Kenya

Local: Little Havens Children's Hospice, Essex & Herts Air Ambulance, Local Schools


Just click on the team number or name below and you will be taken to a web page which will allow you to sponsor the team of your choice.

301 Heart Throbs (Jon Chaproniere)
302 Lego Karters (Thomas Bartlett)

303 Canvey Coast Rotary Horrors
307 The Lion King (Rotary Club of Wickford)
308 Quilters Express (Junior School)
309 Law & Disorder (Waterhouse Cars)
310 The Yellow Submarine (Complete CARnage)
311 Sorella Sound (Mark Nuttall)
312 Ferrari & Maserati Colchester (Rob Cole)
315 S.E. Vintage & Classic Vehicle Club (Keith Smith)
317 Colchester Royal Grammar School (Matthew Adcock)
321 Call Me Violet (Steve Biggs)
322 VW Down Under (Paul Mullinger)
324 BumbleBee (Motor Show Events)
327 Rotary Billericay Town (Nick Lang)

328 Canvey Chuggers (Rotary Canvey Coast)
329 Back to the Future (Lee Knieriem)
330 Brightside Bullet (Brightside Primary School)
331 South Green Junior School Superheroes
332 Scouting Ahead (9th. Basildon Scouts)
334 Bath Bombers (Anita Cockerill)
338 The Hogwarts Express (Complete CARnage)
339 Riders of the Lost Kart (Craig Bickerstaff)
340 Ghostbusters (Scott Farrar)
341 Rallysport Racers (Engineering Academy)
342 Partyman's Magic Makers (Connor's Stars)
343 Sit Down Shut Up and Hold On (Peter Humphreys)


If you just wish to sponsor the Soapbox Derby as a whole, then you can do so by clicking on the line below:

Rotary Club Of Billericay Soapbox Derby 2018
Privacy and Confidentiality
Rotary Club of Billericay promise to respect the confidentiality of any personal data you share with us, when you enter a soapbox or buy tickets to the Rotary Club of Billericay Soapbox Derby, including information that we have access to through the third party purchase processes.

We will only use this information to ensure the success and the effective operation of the Soapbox Derby, during the preparation of which,we regularly send information to you about the forthcoming event including, but not limited to, our Soapbox Newsletters. This information contains vital facts about the event which we need to share with you. For this purpose we maintain a mailing list comprising your names and email addresses, and if you are a competitor, your telephone number(s) and postal address. We take your privacy very seriously and our "Privacy Policy" is published on our website and accessible directly from our Home Page at www.billericayrotary.org using the Privacy Policy and Accessibility link at the foot of that page.
Once the event is over and all activities related to it have been completed, we will delete all such information except that necessary to allow us to inform you when the next event will take place, and relevant information about it, so that you have the opportunity to enter or help us again.