Young Photographer 2018
This RIBI Young Photographer pilot competition is organised by Saffron Walden Rotary Club in collaboration with Saffron Walden County High School and the Joyce Frankland Academy, Newport.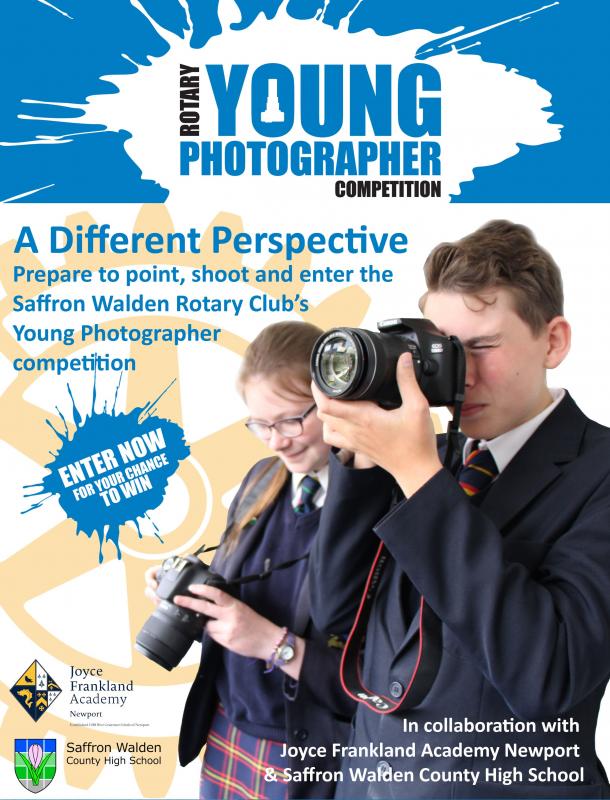 The competition opens on 30th June, 2018, with entries submitted by 28th Sept, 2018, (judging panel October and award ceremony in November, 2018 to be arranged)
Theme is "A different perspective" with entrants choosing their own topic within the theme.
Judging will take place between 1st October and 18th October, 2018.
The winners will be announced by 31st October 2018 with an Award Ceremony at the Saffron Walden Golf Club on a date to be arranged.
The panel will consist of three judges. They will view the entries in each age category and consider:
• Technical merit,
• Content and composition;
• Imagination and style
• Imaginative interpretation of the theme
Exhibition
An exhibition of all chosen entries will be held at the Saffron Walden Library, Market Place, Saffron Walden between 1st and 15th December, 2018.
Prizes and Sponsorship
WH Smith vouchers will be awarded to the winners in each of the three age categories. All entrants will receive a certificate of their participation. Sponsorship is by McGowan Rutherford Home Interior Wholesalers of Station Road, Kennet, Suffolk. www.mcgowanrutherford.co.uk
In 2018/2019 the Club will participate in the Rotary GB&I National Young Photographer Competition.