Though she never got over the loss of her childhood home, Plas Wilmot in Oswestry, when her father's business in Bailey Street collapsed and the family were forced to leave town, Susan fought hard to preserve the family's standing and to ensure that Wilfred, her first-born, would not be disadvantaged by their reduced circumstances and that he would have every opportunity to develop his talents.

Please book your place with library staff.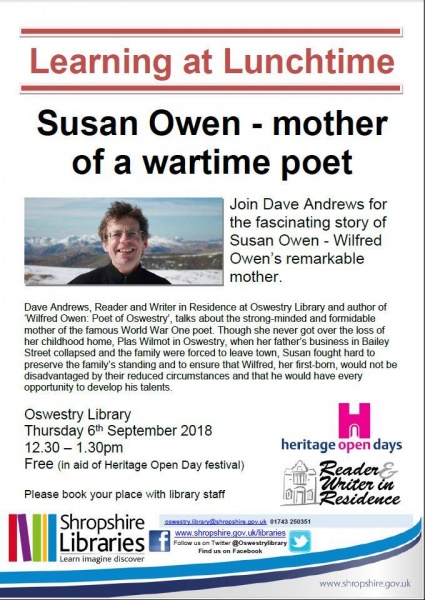 Members may also be interested in the talk at The Willow Gallery:

Saturday October 27th Start 8pm (doors 7pm) Tickets £10
An amalgamation of poetry, song and string trio. Wilfred Owen's poems, an interpretation, set to song, of his mother Susan's perspective on her son at war, accompanied by the eclectic string trio of Faith Brackenbury violin/viola/vocals. Jane Griffiths (Owl Light Trio) violin/viola, and Barney Morse Brown (Duotone) cello. Poet, Leo Nitemynks.