Charity Sports Dinner 2019
Our guest speaker is Scottish Paralympian Samantha 'Sammi' Kinghorn. The dinner will be on 28th February 2019 in Boclair House Hotel. Tickets (£45) available now from members or via eventbrite.com or email. Prize donations welcome.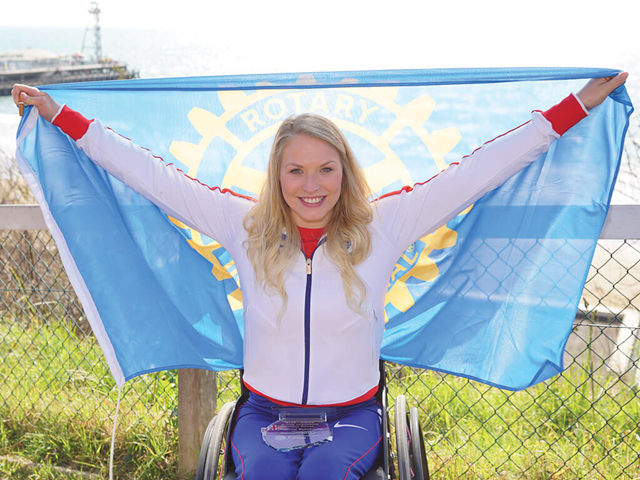 22nd Annual Sports Dinner

Thursday 28th February 2019 at Boclair House Hotel, Bearsden 6.30pm for 7pm start

The evening will feature guest speaker, Paralympian, Sammi Kinghorn. The evening includes a raffle and auction. Dress is lounge suit/cocktail dress.

Samantha 'Sammi' Kinghorn
Sammi is from Gordon, in the Scottish Borders. She took up the sport in 2011, following an accident in the family farm. The accident left her unable to walk, but after being introduced to the sport of wheelchair racing, she has never looked back.

Debut at Rio 2016, as a Paralympian – T53 classification (same as Tanni GreyThompson) Double World Champion 100m & 200m London 2017 Scottish Sportsperson of the year 2017 World record 200m European records 100m 400m 800m Young Citizen Wheelchair Sports Award, sponsored by WheelPower, at the Rotary young Citizen Awards in 2016.

This year we are supporting WheelPower . The charity, based at Stoke Mandeville, provide opportunities for people with spinal injuries to get into sport and lead normal active lives. The proceeds this year will contribute to the cost of appointing a support worker to the Spinal Injuries unit at the Queen Elizabeth Hospital Glasgow that covers the whole of Scotland. The tickets are priced at £45.00 and can be obtained from members or on line at eventbrite.com The Rotary Club of Allander appreciates the continuing support from local businesses and individuals and trust that you will able to be involved this year by attending the event, donating a prize or advertising in our event.

Please complete the enclosed booking form and do not hesitate to contact the writer if you require any further information. I look forward to hearing from you.

Vincent Cuddihy President Rotary Club of Allander cuddihyv@hotmail.com

Application Form
Rotary Club of Allander Sports Dinner

February 28th 2019 Boclair House Hotel

I/We are pleased to offer support for the above event as follows;

1. Please provide tickets at £45.00 each. Cheque enclosed. Tickets can also be purchased by contacting www.eventbrite.com

2. I/We shall be pleased to provide the following item for your auction which can be collected from us from onwards.

3. I/We shall be pleased to provide a raffle prize. This can be collected from us from onwards

4. I/We enclose a donation to the event.

5. I/We shall be pleased to advertise in the Dinner programme as noted below
Page size A5 - Full page at £75.00

Half page at £45.00

Quarter page at £25.00

Payment enclosed. Copy to be confirmed by email using PDF be received by 20th February 2019.
Please make all cheques payable to Rotary Club of Allander

Name………………………………………………………………………………………………. Address……………………………………………………………………………………………. Postcode…………………………………………………………………………………………... Email Address…………………………………………………………………………………… Contact telephone number …………………………………………………………………

Please return this form to cuddihyv@hotmail.com or by post to Secretary Rotary Club of Allander, 31 Dunellan Road, Milngavie. G62 7RE

In accordance with GDPR any information will relate only to this event and will not be shared with any other organisation.