Sand dams in Africa
An joint International Project with other local clubs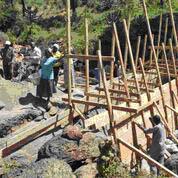 Joint Kenya Sand Dam Project
Since our update of 2nd June, we are pleased to advise that our sand dam in Mumbuni, SE Kenya has now been built.
Work on the dam began on the 18th May and was completed on the 24th July.
Progress in constructing the dam was severely hampered by the rains earlier this year - the community had managed to collect all the materials necessary to begin construction, only for the rains to actually wash a lot of them away in the floods. This obviously impacted the amount of time it took to complete the sand dam as material collection had to start again. However, they were able to persevere and see the construction through to completion.
Our Mumbuni sand dam was the 1035th enabled by Excellent Development. And the 957th sand dam that they have constructed in Kenya.
We have been advised by the local project supervisors, the African Sand Dam Foundation that the beneficiary population who will have sustainable access to water from the dam is 1,426 (786 females and 640 males).