2018 Great Santa Fun Run - CANCELLED
Sun 9th December 2018 at 10.45 - 14.00
EVENT CANCELLED SUNDAY 9th DECEMBER @ 10:45 Badbury Rings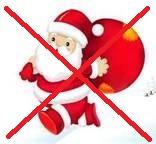 GREAT SANTA FUN RUN HELPS GOOD CAUSES
We're sorry, but this year's Santa Fun Run has had to be cancelled.
Problems with the venue, the timing and not enough people signed up, mean we are forced to cancel this year's Fun Run.
We DO plan to do the Fun Run in December 2019, bigger and better than ever before, so make sure you watch this space next November!
XXXXXXXXXXXXXXXXXXXXXXXXXXXXXXXXXXXXXXXXXXXXXXXXXXXXXXXXXXXXXXXXXXXXX
It's that time again - The 10th Wimborne Rotary Santa Fun Run will be held at Badbury Rings point-to-point course on Sunday 9 December. Last year, the event which is sponsored by the Rotary club's Business Partners, saw more than 100 Santa's taking part in the annual charity run.
Following a cheerful warm-up session , entrants assemble for the start and then choose to run or walk over a challenging course of two or four miles raising sponsorship for their individual or team charities. Oldest participants last year were John (87 and Molly (86) Slow from Wimborne, who successfully completed the two-mile challenge.
DO NOT forget the FREE Mince Pie !
Last year at least twelve charities benefited from the efforts of team and individual runners:
John Thornton Young Achievers Foundation
Sport Against Cancer
Sheltered Work Opportunities
Rotary Polio Eradication
British Heart Foundation
Cancer Research UK
Forest Holme Hospice
East Dorset Citizens Advice Bureau
Wimborne Athletic Club
Wimborne Wagtails
Poole Africa Link (Healthcare)
Wizz Kids
x