Santa Float 2018 - to start 3rd December for 2 weeks.
We will be starting our annual charity Santa Float around the streets of Canterbury beginning on Monday December 3rd - full update of routes to follow soon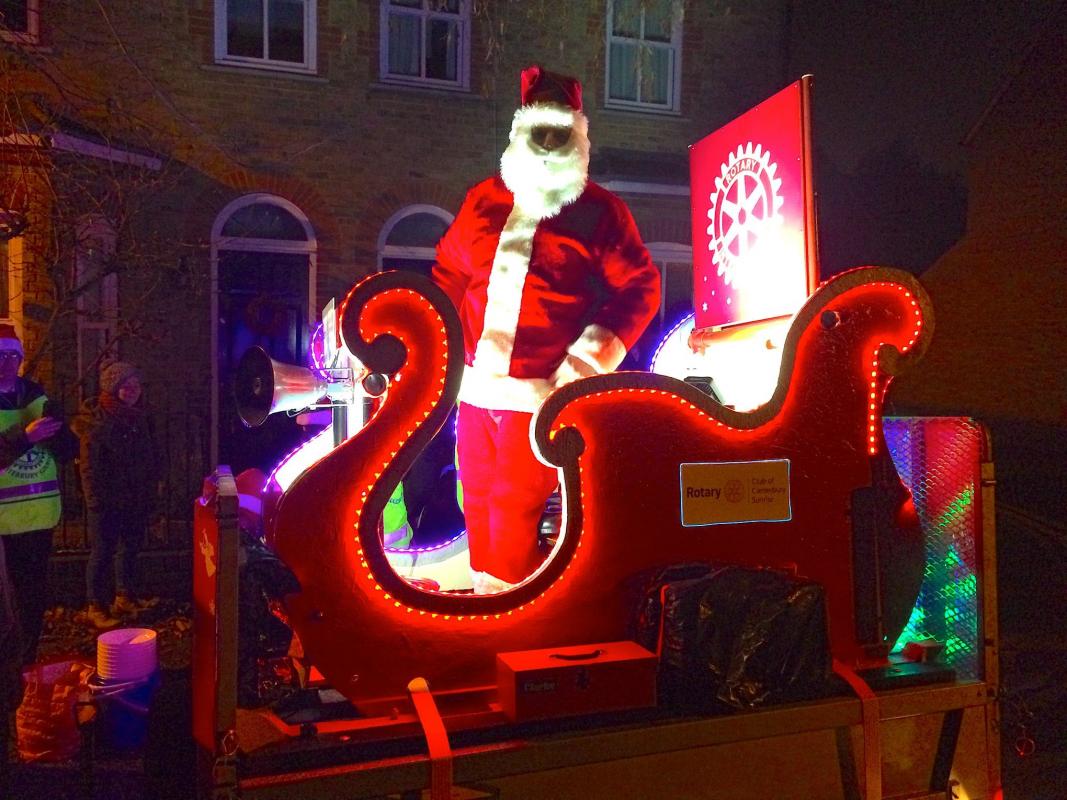 See below for details of when Santa is calling on you!
Monday 3rd December - Forty Acres, including:-
Beverley Road, Hanover Place, Long Acre Close, Mandeville Road, Pine Tree Avenue, Redwood Close
Tuesday 4th December - Salisbury Road, including:-
Beaconsfield Road, Bramshaw Road, Brockenhurst Close, Cadnam Close, Damerham Close, Downs Road, Durnford Close, Leycroft Close, Lyndhurst Close, Ringwood Close, Salisbury Road, St Michaels Road, St Stephen's Hill, Stephenson Road, Tyler Close, Verwood Close
Wednesday 5th December - Wincheap, including:-
Bristol Road, Cambridge Road, Chineham Way, Durham Close, Guildford Road, Heaton Road, Lancaster Road, Lime Kiln Road, Martyrs' Field Road, Nunnery Road, Oxford Road, Zealand Road
Thursday 6th December - Chartham, including:-
Aspen Road, Beech Avenue, Godfrey Gardens, Jasmine Close, Laurel Way, Linden Road, Magnolia Drive, Old Church Way, Old Garden Court, Sycamore Close, Updown Way
Friday 7th December - Sturry Road, including:-
Dickens Avenue, East Street, Field Avenue, Forrester Close, Old Park Avenue, Reed Avenue, Shelley Avenue, South Street, Tennyson Avenue, Vauxhall Avenue
Monday 10th December - Barton Estate, including:-
Barton Road, Chaucer Close, Churchill Road, Lichfield Avenue, Lincoln Avenue, Milton Close, Mount Road, New Dover Road, Pilgrims Way, Rochester Avenue, St Augustine's Road, Wells Avenue
Tuesday 11th December - London Road Estate, including:-
City View, Franklyn Road, Knight Avenue, Merchants Way, Mill Lane, Miller Avenue, Pardoners Close, Priest Avenue, Prioress Road, Shipman Avenue, Wife of Bath Hill
Wednesday 12th December - Spring Lane, including:-
Cumberland Avenue, Devon Road, Dorset Road, Essex Road, Fiesta Walk, Hampshire Road, Kent Avenue, Laxton Way, Nonsuch Close, Russet Road, Somerset Road, Spring Lane, Sturmer Close, Sussex Avenue, Warwick Road, Winston Close
Thursday 13th December - Thanington, including:-
Alfred Close, Ashenden Close, Athelstan Road, Bramley Avenue, Cockering Road, Godwin Road, Ingoldsby Road, St Nicholas Road, Strangers Lane, Windsor Road
Friday 14th December - Bridge, including:-
Beech Hill, Brewery Lane, Bridge Down, Meadow Close, Mill Lane, Riverside Close, Union Road, Windmill Close, Western Avenue
NB* The street names included are indicative of the main roads that will be covered on each evening's collection. In addition there may be several smaller roads that may not show up on the maps.
The order given is only alphabetic and NOT in the order in which they will be covered.
We will also be collecting food for Canterbury Food Bank. www.canterburyfoodbank.org
We will be happy to collect any of the following tinned foods: vegetables, fruit, puddings, fish, meat and soup.
(please ensure that all items have a sell by date at least 3 months ahead)
Canterbury Food Bank is stocked entirely by the generosity of the local community.
Please give generously!
President Roger Neaves
and all the members of the Rotary Club of Canterbury Sunrise thank you for supporting our charities.
We wish you
a very Merry Christmas and a very Happy New Year