DG Dave Ford's visit to the Buckingham Club
Inspiring talk by DG Dave Ford on 28th Jan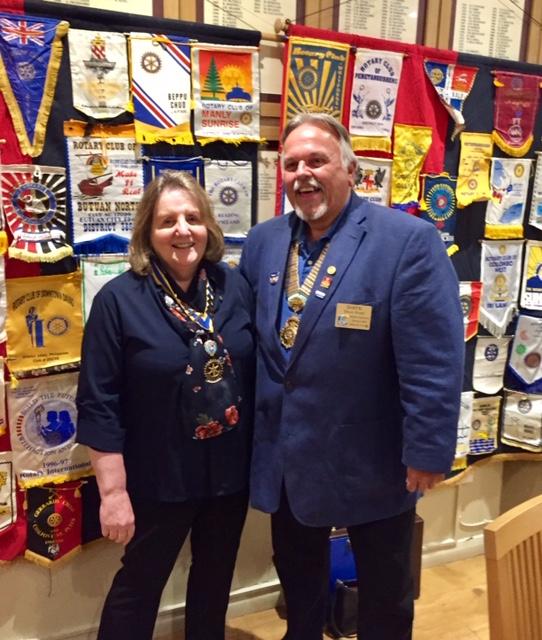 BUCKINGHAM ROTARY CLUB PRESS RELEASE
District Governor, Dave Ford visits Buckingham!
Dave and his wife, Wendy paid a visit to the evening meeting of The Rotary Club of Buckingham last Monday at The Buckingham Golf Club. Both Dave and Wendy are members of the Brookmans Park Rotary Club and Dave is the District 1260 Governor, covering Beds, Herts and Bucks for the year 2018/19.
Dave gave a speech highlighting his 'inspirational goals' for the year and how Rotary, both locally and Internationally are making a significant difference in terms of 'service above self'. He spoke passionately about 'Rotarians in action' and community service, membership goals both through the introduction of new and retention of existing members and various charitable projects including the progress in terms of the eradication of polio worldwide.
Dave also gave an insight into the provision of a 'Fibroscanner' through Rotary funding. The portable liver scanner will be based at the Lister Hospital in Stevenage and the plan is for it to be used by fully trained medics throughout hospitals and surgeries across District 1260.
It was a most enjoyable evening and certainly gave all the members and visitors inspiration for lots of ideas and projects that will help to make both our local community and further afield, better places to live. Our thanks to them both for joining us for this memorable evening.
Buckingham Rotary raises thousands of pounds each year for local charities, as well as supporting international initiatives. We regularly meet socially and always welcome new members to join us in the service of our local community and the wider world. For more information, please contact Jeff Samwell (telephone 01280 860111; email jeff@samwellassociates.co.uk).
NOTE FOR EDITORS - Rotary is a worldwide organisation of people who provide humanitarian service, encourage high ethical standards, and help build peace and goodwill. Locally, we are for supporting communities, making a difference, thriving together, socialising and giving something back. In Buckingham we raise thousands of pounds each year for local charities, as well as supporting international initiatives.
Issued by Lindsey Fealey – lindseyfealey@gmail.com - 07973 459447 Date: 31 01 2019