Honour for long-serving Rotarian
Rotarian Colin Power was made an Honorary Member of Newton Abbot Rotary Club
Rotarian Colin Power was made an Honorary Member of Newton Abbot Rotary Club at a recent meeting held at the Courtenay Centre. This event was held to mark his 55 years as a Rotarian during which time he has been actively involved in the whole range of Club initiatives and projects over those years.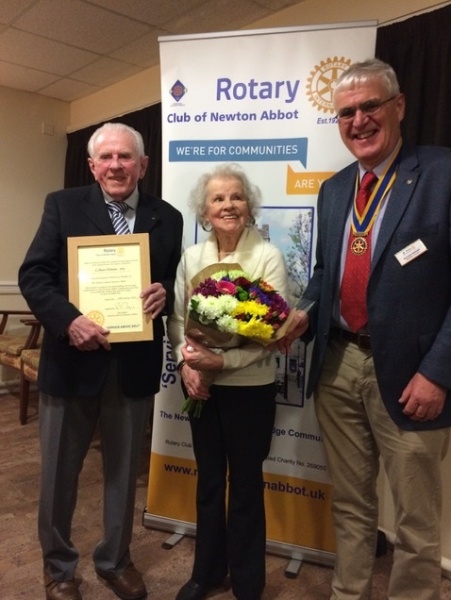 Awarding the Honorary Member plaque, Club President, Richard Morgan said that it celebrated Colin's long and unstinting service in the Club but also his active service in the Town – all in the spirit of Rotary. Holding the meeting at the Courtenay Centre was to highlight Colin's hands-on work with the Centre since it's very inception in 1962 and opening in 1968 including, until recently, being its Treasurer. Thanking the Club for this very real honour, he said that the friendships he had made and the work he had done in the Club and in the wider community were hugely important to him and to his wife Janet. Within the spirit of Rotary, club members had done much in the Town and beyond, their close involvement with the development of the Courtenay Centre was just one of many examples.

President Richard took advantage of the occasion to further cement the Club's links with the Centre by presenting a cheque for £500, on this occasion to support the Luncheon Club which provides subsidised lunches 4 days per week. The Luncheon Club, he said, provides not just a fine lunch but such valuable social contact for people who often live alone.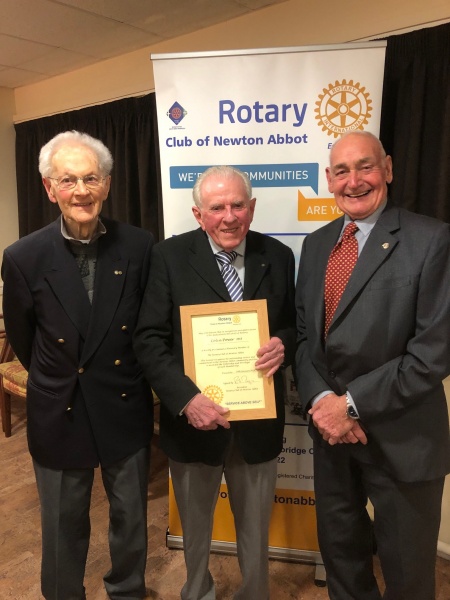 Colin joins the illustrious list of RCNA Honorary Rotarians with Ken Hicks and Les Cheeseman (Pictured), as well as Andrew Wilson (for Teignbridge Citizens Advice Bureau) and Steve Gaskell (for Newton Abbot Chamber of Commerce).