Handover meeting
Thu 4th July 2019 at 1.00 pm - 2.15 pm
The 2018-19 President and Council hand over to their successors

President Anne started off in the chair for today's meeting. Honorary member and Past President Brian Collings paid us one of his occasional visits. There was some amusement when he won the weekly raffle. He must be one of the few people who has paid less in the cost of raffle tickets over the course of a year than the value of his prize!
After the raffle and the usual notices, President Anne handed over to our incoming President Francis and put the President's chain of office around his neck. In return he handed her her Past President's badge and jewel. He paid tribute to her time as President and said the Club would continue to meet at other venues occasionally.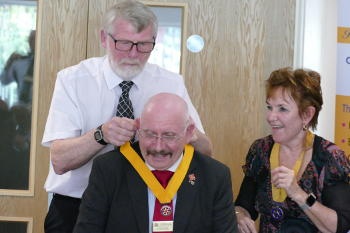 President Francis then put the 1st Vice President's collar, which he has been wearing up until now, around the neck of Janice Goodman. She tried to put the 2nd Vice President's collar around Peter Kemp's neck but had difficulty doing it up, so John Watkins stepped in to help. (See the photograph.)
After that President Francis gave the notices about next week's meeting before closing the proceedings with the Rotary toast.