Scatter Week - 14th to 26th February 2019
Reports on the the Competition Entries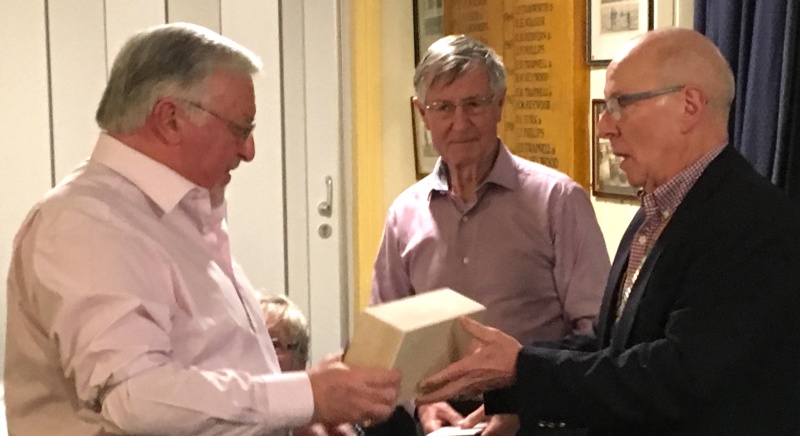 The Competition winners receiving thier prize gifted from President Alan Glover.
The winners pictured are John Bishop & David Ogle (Andrew Laugharne absent for the photo)
Bideford Bridge RC – Scatter 14th to 26th February 2019
Team 9 – John Bishop, David Ogle, Andrew Laugharne Wellington, District 1200, Somerset
Just off the link road and Junction 25, Wellington enjoys the dual benefits of being in another county and another district. David (the driver), John and I enjoyed a very pleasant lunchtime meeting with the members of Wellington Rotary Club (dual gender, please note). They meet at the Beambridge Inn at Sampford Peveril a couple of miles outside Wellington. We arrived after the conclusion of their council meeting and were presented with Rotary biros, Rotary notepad and a programme of future events. Business was brief and we were then given a talk on the threat to the environment posed by the invasive Asian Hornet, a vicious predator of our native bees, and their pollinating activities. David was sufficiently impressed to circulate an article on this unpleasant creature which appeared in the following day's Western Morning News (so it must be true!)
The club enjoy their fellowship and one of the members has been instrumental in organising various recent trips to First World War battlefields, D Day landing sites, Sicily, Malta, Athens and, coming up a trip to Romania, following a visit to the club by a Rotarian from that part of the world. Closer to home they have visited the Concorde exhibition in Bristol, something which John Shardelow has suggested to our club.
Their fundraising is probably of a lower order than ours (they were a trifle jealous !) and involves smaller, but regular events, most recently raising £1000 from a ferret racing evening. They also hold a Christmas street fair in Wellington and a Collectors antiques fair.
John B exchanged banners with their President and the suggestion was put to us that some of their members might pay us a visit in the near future.
The photograph shows us (well perhaps two and a half of us!) with the club officers , President James Jellard, Secretary Mike Parsons and Treasurer David Fasey.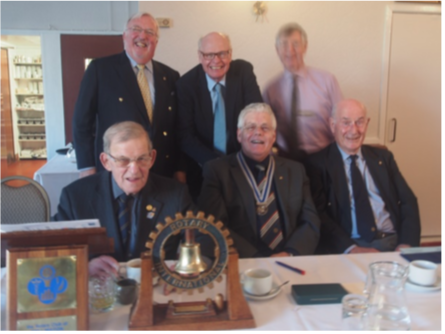 Team 14 – Euan Eddie
Minehead, District 1200, Somerset
17 Rotarians were present plus a speaker and one guest. The members were exceptionally welcoming and provided a good meal at a cost of £13.50. They have acquired the use of a small, very comfortable hotel in the town – the Northfield Hotel.
The speaker was a young man whose presentation skills were not good but his message was clear – 'Your web-site is dated and not attractive to a younger audience', which he backed up by showing some of his own high quality presentations (and they were good) that he has made for local companies. One minute of 'good' video took two weeks to prepare. He recommended Instagram as the most effective social media platform, to which one Rotarian asked 'What is social media?'
The clubs raises funds with a Swimathon (about £5,500) which attracts a lot of local schools and parents, and a Beacon to Beach run.

Team 8 – David Hatton & Mike Kivell Bude, District 1175, Cornwall
Mike and I attended Bude RC on Monday at 1pm.
We were made most welcome by Alan Rainsley (who knows our President). We exchanged banners and enjoyed lunch with them.
Fund raising. I ascertained that two of their most productive events last year were a Jazz evening at the Falcon, and a rubber duck event on the canal. I mentioned our dates which were duly noted.
Unfortunately I left my phone at home so I'm afraid there are no photos but I will bring their banner along to next Wednesday's meeting.
Team 16 – Joe Armstrong & Bill Grant Torrington, District 1175, Devon
Torrington RC have 9 lady members without whom they would be in difficulty. The youngest of these is 22 years old. Four of the ladies have been President
Current President is Charles Innis who was President 39 years ago.
The evening was run in a very relaxed manner. There were 20 club members plus 4 visitors.
The talk was on Torrington losses in the First World War. The speakers had made efforts to highlight stories on individuals involved in the war. However due to the 2nd world war much of the detail on individuals in the First World War had been lost.
The meal costs were the same as ours but there were four choices of main and sweet. The food was scrumptious!
A photograph will follow from Bill Grant
Team 14 – Brian Wakefield, Alan Glover, Rod Mole Ilfracombe, District 1175, Devon
My Team of President Alan Glover, Rotarian Rod Mole and President Elect Brian Wakefield arranged to visit the Ilfracombe Club during the Club Scatter fortnight and subsequently the team of Don Carter, John Violet and John Caldwell asked to join us. Eventually Pete Morris also came along as his Team had been reduced to "one". A total visiting team of 7.
We readily agreed to the joint visit as we are consciously aware that "The foundation upon which Rotary is built is friendship – Quote from Paul Harris"
Our journey to the lunchtime meeting was in glorious sunshine and little traffic and we were warmly welcomed upon arrival at The Carlton Hotel.
Ilfracombe Club has 32 members including 14 ladies and their average age has been significantly reduced by the enrolment of a 21 year old lady! Ilfracombe Compass is the other Rotary Club in the town.
President John Brown welcomed us in his opening remarks and. during an enjoyable lunch (not as good as the food at RND) we gleaned information on their fundraising activities.
Their principal event is the Startrek Walk, which has been running for 27 years and over the period it has raised almost £1M for charity, an outstanding result. In fact the event is to take place again next weekend and they hope to raise almost £40,000 from the 47 participating teams. It takes 12 months in the planning and on the day 100 helpers are required. It is a joint venture with the Compass Club. Other activities include a "Pop Up Shop" for 5 weeks in the summer which raised £6000+ and the Chapel on the headland which the Club renovated in 1962 and which attracts many visitors with donations and the purchase of souvenirs. Another £7000pa. They now benefit from cruise ship arrivals and mention was made of two vessels arriving in the coming months. The Shop and the Chapel are largely staffed by "Friends of Ilfracombe Rotary" a group who always help out with projects but who are not willing to commit the time (or the money) to become full time Rotarians.
President Alan thanked them for their hospitality and for their support for our Kids Nights at the Milky Way, where the two Ilfracombe Clubs combine to bring a coachload.
Team 10 – Roger Doble, Geoff Day Braunton Caen, District 1175, Devon
I went to Braunton Caen with Geoff. We wore our usual Rotary gear but found we were very overdressed – all was very casual. The speaker was a lady who is involved with U3A, and had us all doing sitting down exercises for half an hour. She was very good fun. They raise about £24k a year with their main event being a driving tour around North Devon. They also own a barbecue which they use for fundraising.
A good evening except that after the meeting only about half a dozen stayed to eat. Sorry no photos.
Team 1 – John Wilson
Ottery St Mary, District 1175, Devon
A combination of work, illness and thespian commitments resulted in me going on my own. A
Good venue, about 24 attending. No Grace, no attendance report and no jokes. Duty Rotarian
comes up with a "thought for the day". One lady member - next president
Next vice president is aged 33yrs. club average north of 70yrs
Their website records their fund raising events. They don't have banners but instead employ a