Speaker Meeting, 6.15 for 6.30pm
Mon 2nd September 2019 at 6.30 pm - 8.00 pm
Speaker: Harry Lowe, our RYLA candidate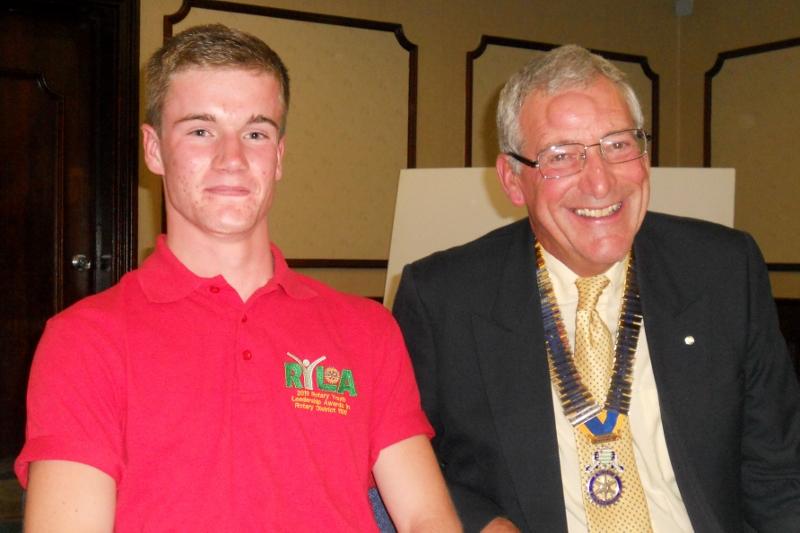 Club members please log in for more information.
Proudly wearing his RYLA shirt, 17-year old Harry Lowe from Wanborough (in the picture with Club President Robin) made a return visit to give us a report of the RYLA course we sent him on.
RYLA (Rotary Youth Leadership Award) is a 5-day residential course held in The Forest of Dean in July on an annual basis. The aim is to improve the leadership skills of young people between the ages of 16 and 18. Split up into teams of 6 the course aims to improve the self-confidence, leadership and communication skills of the youngsters by means of a series of challenging practical and theoretical exercises. The activities include a ropes course, canoeing, climbing, abseiling and orienteering. The programme is carefully structured so that exercises are backed by theory to develop leadership and team skills.
Harry Lowe said that being on the RYLA course has benefitted him by improving his team building and communication skills. He particularly enjoyed making new friends and he believes his speaking and presentation skills, leadership abilities and co-ordination with others are now better than before.
He expressed his sincere gratitude to us for choosing him to have the worthwhile and valuable experience that RYLA provides.
It was clear to all of us listening that Harry had really enjoyed his time with RYLA. Following the meeting, Club President Robin wrote to Harry:
"We would love to hear from you from time to time to update us on what you're doing and particularly your career plans. We very much hope at some future date you will consider joining one of the Rotary family of organisations such as Rotaract. We would happily provide you with any further Rotary information you require. There are many other Rotary programmes that you might be interested in at some time in the future. Good luck with your studies and we were all pleased to see how much you had benefitted from the RYLA course."