Speaker Meeting, 6.15 for 6.30pm
Mon 4th November 2019 at 6.30 pm - 8.00 pm
Speaker: Rtn Nicky Alberry: My year as High Sheriff of Wiltshire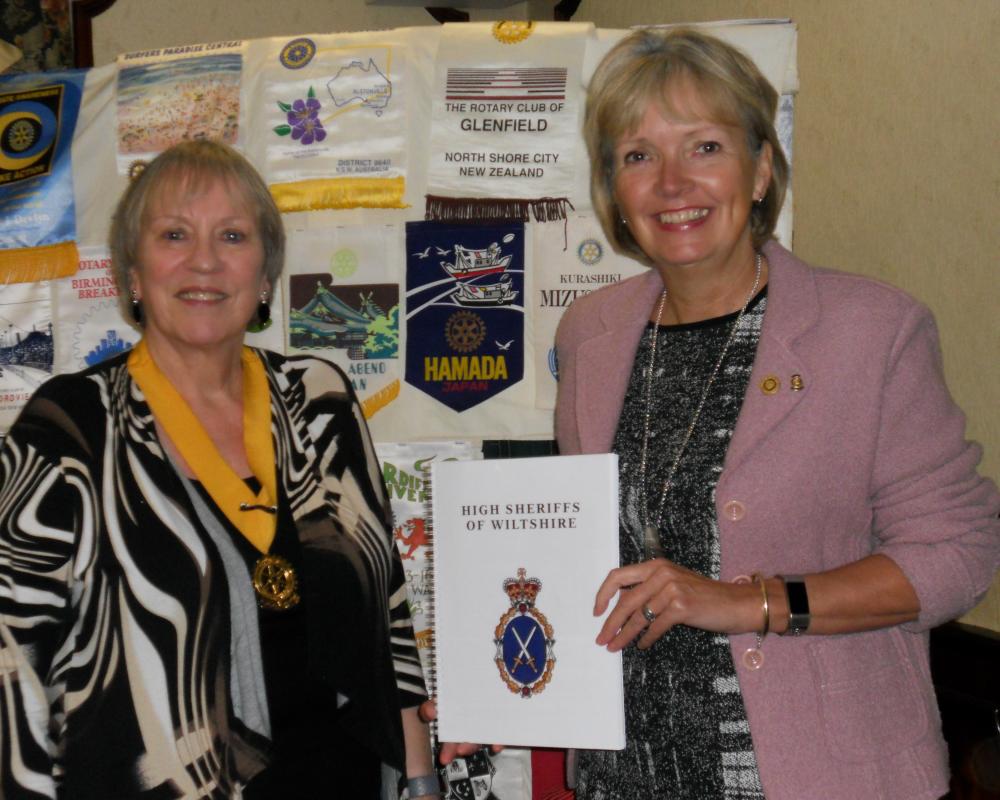 Club members please log in for more information.
Our guest speaker at this meeting was Rotarian Nicky Alberry, High Sheriff of Wiltshire for the year ending 6th April 2019, in the picture with Club Vice-President Kathy Hobson.
The office of sheriff had its origins in the 10th century and reached the height of its power under the Norman kings. Then the role was very powerful for the holder who amongst other things was able to collect taxes, raise an army and keep law and order. Inevitably sheriffs became corrupt and today the duties have changed somewhat.
Nicky said that the word sheriff is a contraction of the Saxon "shire reeve." A shire reeve was a royal official responsible for keeping the peace throughout a shire or county on behalf of the king. High sheriffs are theoretically the sovereign's judicial representative in the county, whilst the Lord Lieutenant is the sovereign's personal and military representative.
The first sheriff of Wiltshire was appointed in 1066. His name was Edric.
Nicky mentioned some more incumbents of the office.
1200 – William Longespee, 3rd Earl of Salisbury, an illegitimate son of King Henry 2nd
1231 – Ela, 3rd Countess of Salisbury and wife of William Longespee. The first female Sheriff of Wiltshire. She held the post for two years after her husband's death, then became a nun, and eventually Abbess of Lacock Abbey which she had founded in 1229. More than 760 years would pass before another woman was appointed Sheriff.
1405 – Walter Hungerford, 1st Baron of Hungerford. He fought alongside Henry 5th at Agincourt.
1645 – Edmond Ludlow, a Parliamentarian and one of the signatories on Charles 1st's death warrant.
1840 – William Henry Fox Talbot of Lacock Abbey, inventor and pioneer of photography
Falling during Nicky's term of office was the commemoration of the 100th anniversary of the end of WW1 and the Novichok poisoning in Salisbury. She visited Salisbury 46 times. She sat in the courts, visited prisons, met various members of Royalty, attended a garden party at Buckingham Palace, and staged "Uncelebrated Journey" at The Wyvern Theatre. It showcased the talents of some famous Swindonians, past and present.
From various fund-raising events Nicky organised some £30,000 was raised during the year for various charities. She took the opportunity the office afforded her to raise the profile of one of her favourite charities, Swindon Women's Aid.
In conclusion, she said how much she had enjoyed the year, describing it as "great fun."